Streaming channels are virtual hangouts where we connect, play, and share laughs in real-time. They're not just for content creators and community leaders; they're for friends who want to battle it out in a game, watch together, or just chat the night away. This guide will show you how to set up your own streaming channel—a cozy corner of the digital world where you can share your screen, turn on your camera, and just be together, even when you're miles apart. Here's how to create a space that's all your own and manage it like a pro.
Create a Streaming channel.
Click the + button next to channels.

Select Streaming, name your new channel, and click the Create button.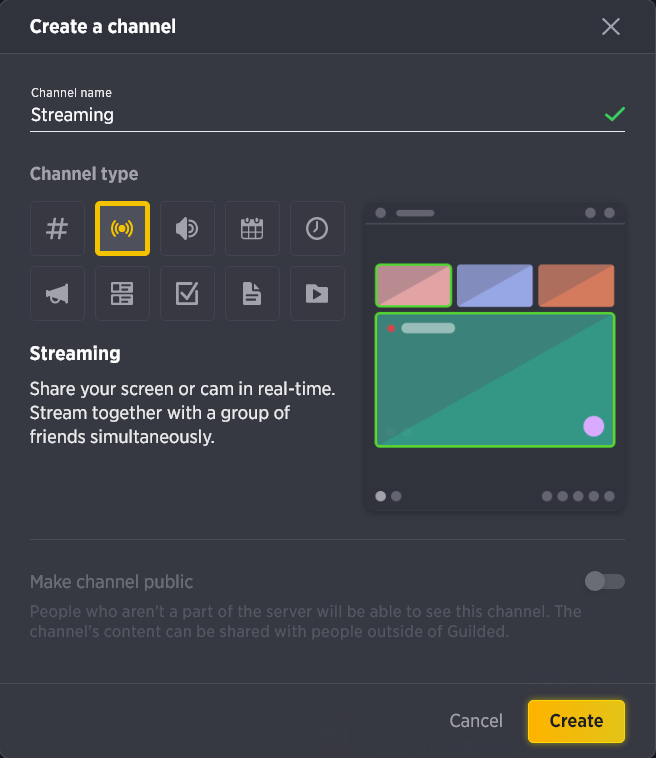 Now your channel has been created, let's have a look around.
To maximize your streaming experience, you can use the Start streaming dropdown menu for quick actions. Here's how:
Click on the Start streaming dropdown menu.
From the dropdown menu, you can choose to Share your screen or Turn on camera, depending on your streaming needs.
Additionally, you can click on Join voice to either listen in or participate in the conversation.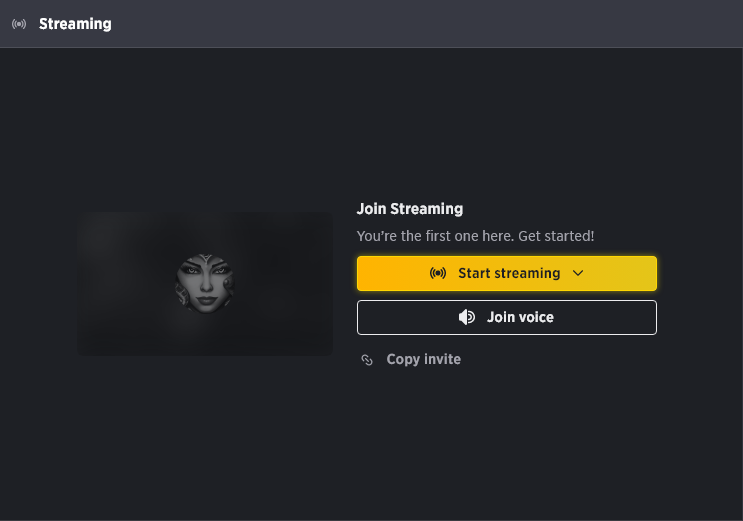 If you want others to join your new channel, you can send them a direct link, click Copy invite and share it with your friends and members.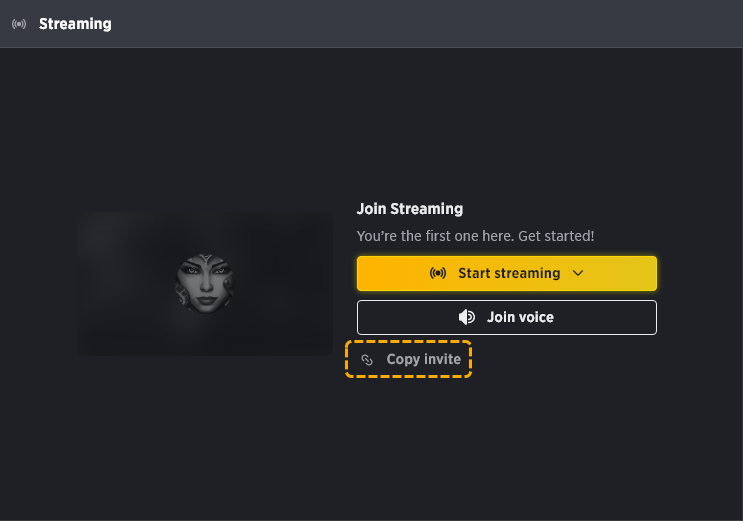 Each streaming channel is assigned to a specific region for optimal streaming performance. To configure the stream settings for a channel, follow these steps:
Click on the cog icon on the streaming channel you want to adjust.
Select "Stream Settings" from the options that appear.
Within the Stream Settings menu, you can adjust the Voice bitrate, with a maximum value of 256kbps. This allows you to optimize the voice quality based on your preferences and requirements.
Additionally, you can choose the best region for your server by selecting the appropriate region from the available options.
Accessing Stream Settings through the cog icon lets you fine-tune the streaming experience regarding voice bitrate and region selection. This helps ensure the best performance and quality for your streaming channel.
Note:

If you swap regions while connected, there will be a brief disconnect while the server region changes.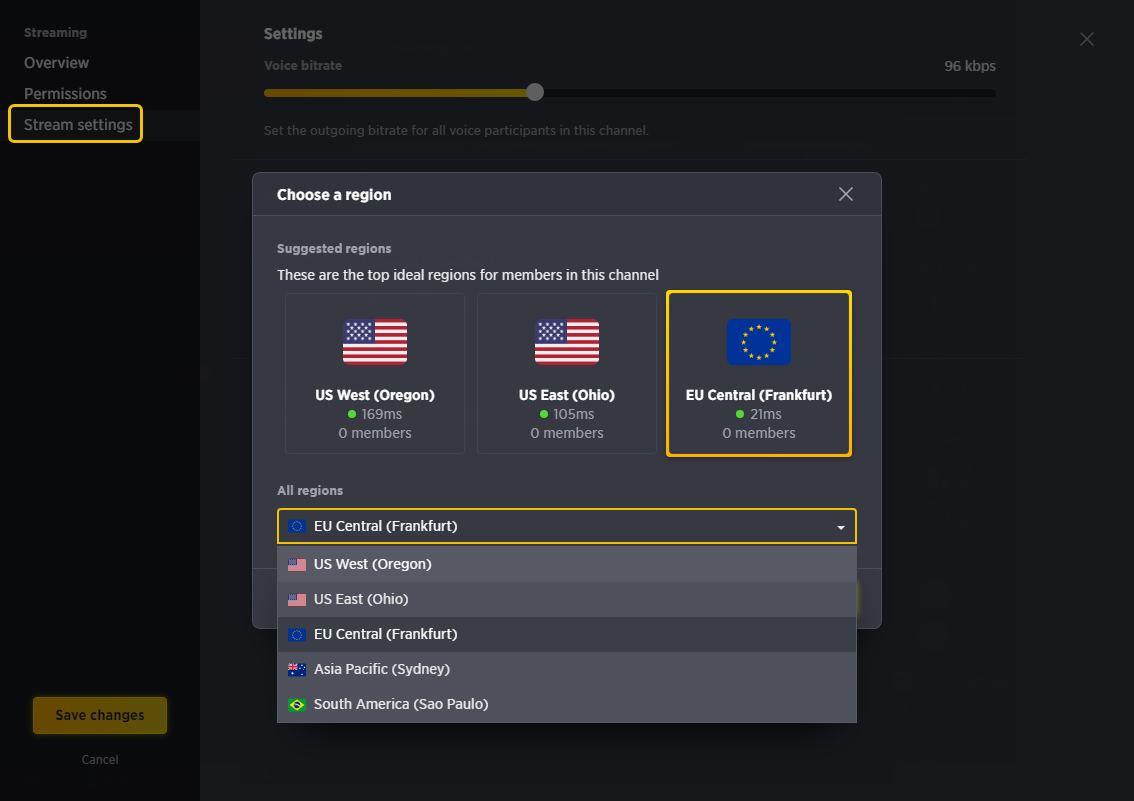 Streaming
Share your screen or application window, and you will see a new choice of controls underneath your stream.
Note: Application audio is automatically streamed when you select that application to stream.
When multiple people are streaming, you can choose between grid and focused views, depending on your preference. Here's how you can switch between these views:
If you prefer a grid view to see everyone's stream simultaneously, click the grid view option. This will display multiple streams in a grid-like layout, allowing you to view everyone's stream simultaneously.

Select the focused view option if you want to focus on a particular stream. This will enlarge and highlight the chosen stream, making it the main focus of your viewing experience.
You can adapt the streaming layout to suit your needs by toggling between grid and focused view. Whether you want to watch multiple streams or concentrate on a specific one, the choice is yours.

Let's look at the controls available to you during a stream. Here's what each button does:

Share Screen: This button allows you to share your screen with viewers. It will be highlighted when in use, indicating that your screen is being shared.

Webcam: Clicking this button lets you turn on your webcam, allowing viewers to see you during the stream. When active, the button will be highlighted.

Mute: If you wish to mute your audio during the stream, simply click the Mute button. This helps to prevent any unintended sounds from being transmitted.

Deafen: The Deafen button enables you to mute incoming audio. This is useful when listening to the stream without being disturbed by others' audio.

End Stream: When you're ready to conclude the stream, click the End Stream button. This will stop the streaming session and disconnect you from the stream.
Let's explore the additional controls available to enhance your streaming experience. Here's what each control does:

Pop Out: Clicking the Pop Out button lets you detach the stream from the main window and view it in a separate, resizable window. This feature provides flexibility in arranging your streaming layout.

Theatre Mode: By clicking the Theatre Mode button, you can switch to a larger viewing mode that removes unnecessary distractions, providing a cleaner and more immersive streaming experience.

Full Screen: To maximize the stream to occupy your entire screen, click the Full Screen button. This lets you enjoy the stream without other elements or distractions on your display.

Cog Icon: Clicking the Cog icon grants access to the Voice and Video Settings. This lets you fine-tune your audio and video preferences for the best streaming quality.

During a stream, you can pause your own stream or the streams of other participants. Here's how:

Locate the three dots icon in the corner of the stream window.
Click on the three dots icon to access the stream options menu.
Within the menu, you'll find the option to pause your own stream or the streams of other participants.
Click on the pause option to temporarily pause the stream.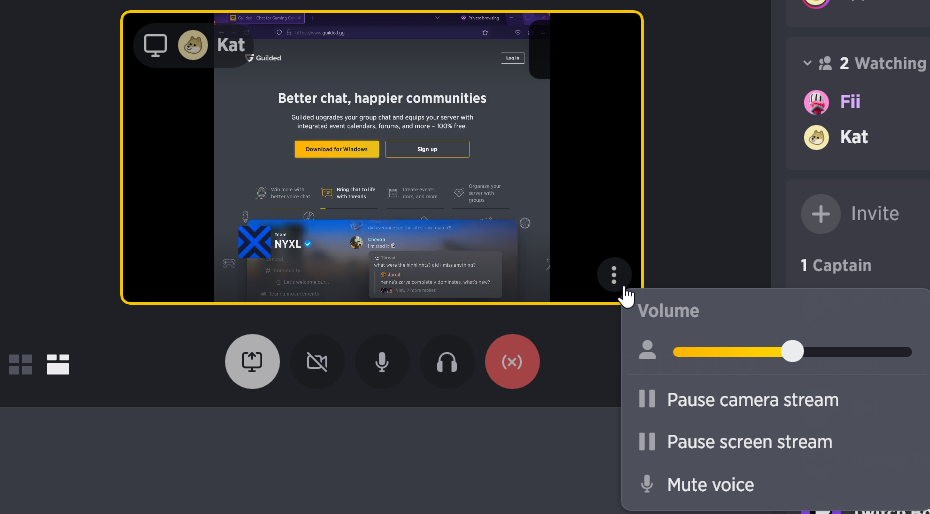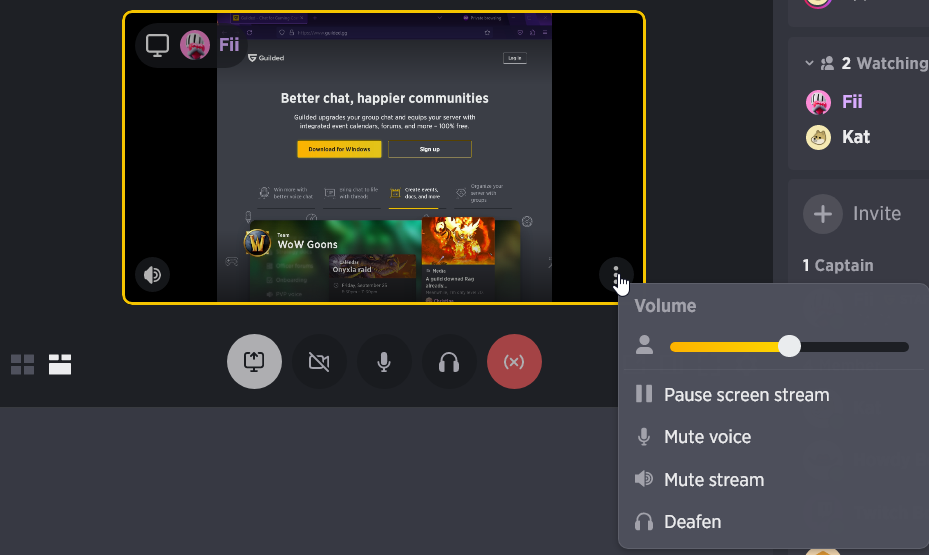 Here are some additional features and functionalities during a stream:

Individual Stream and Voice Volume Adjustment: Right-clicking on a user's stream allows you to independently adjust the stream and voice volume. This gives you control over the audio levels of each participant in the stream.

Picture-in-Picture for Screen and Webcam Sharing: When a user simultaneously shares their screen and webcam, you can see both streams using the picture-in-picture feature. In the top right corner of the stream, you'll find a view switcher that allows you to toggle between the screen and webcam views.

Pop-out Player and Streaming Indicator: If you are streaming and using the pop-out player to view the stream in a separate window, a banner will indicate that you are currently streaming. Closing the pop-out player will resume your view of the stream within the channel.