If you're someone who loves to stay organized, you'll definitely want to check out our pop-out channels feature! With this feature, you can easily open any chat, list, or streaming channel in a new window, so you can follow along and contribute to conversations while also completing other tasks on your computer.
And the best part is, you can pop out more than one channel at a time, and move them around your desktop to create your own custom workspace. Whether you prefer a neat and tidy setup or a more free-form approach, pop-out channels give you the flexibility to work the way you want.
Just keep in mind that this feature is only available on the Guilded Desktop App, so be sure to download and install it for the full pop-out channel experience!
There are two ways to pop out a channel.
You can right-click the channel and select Open in new window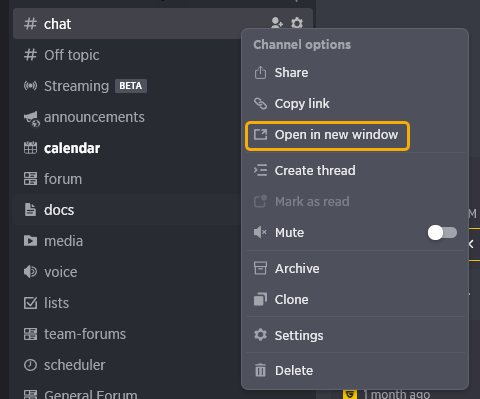 or you can double-click the channel, and the window will pop out.