Creating channels & categories
How to add new categories and channels
We included some basic categories and channels to get you started when you create your new server. Here's how to add some more.
Creating a channel
Click the + icon next to channels to create a channel.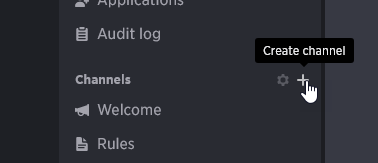 Choose the type of channel you want and give it a name. Click Create.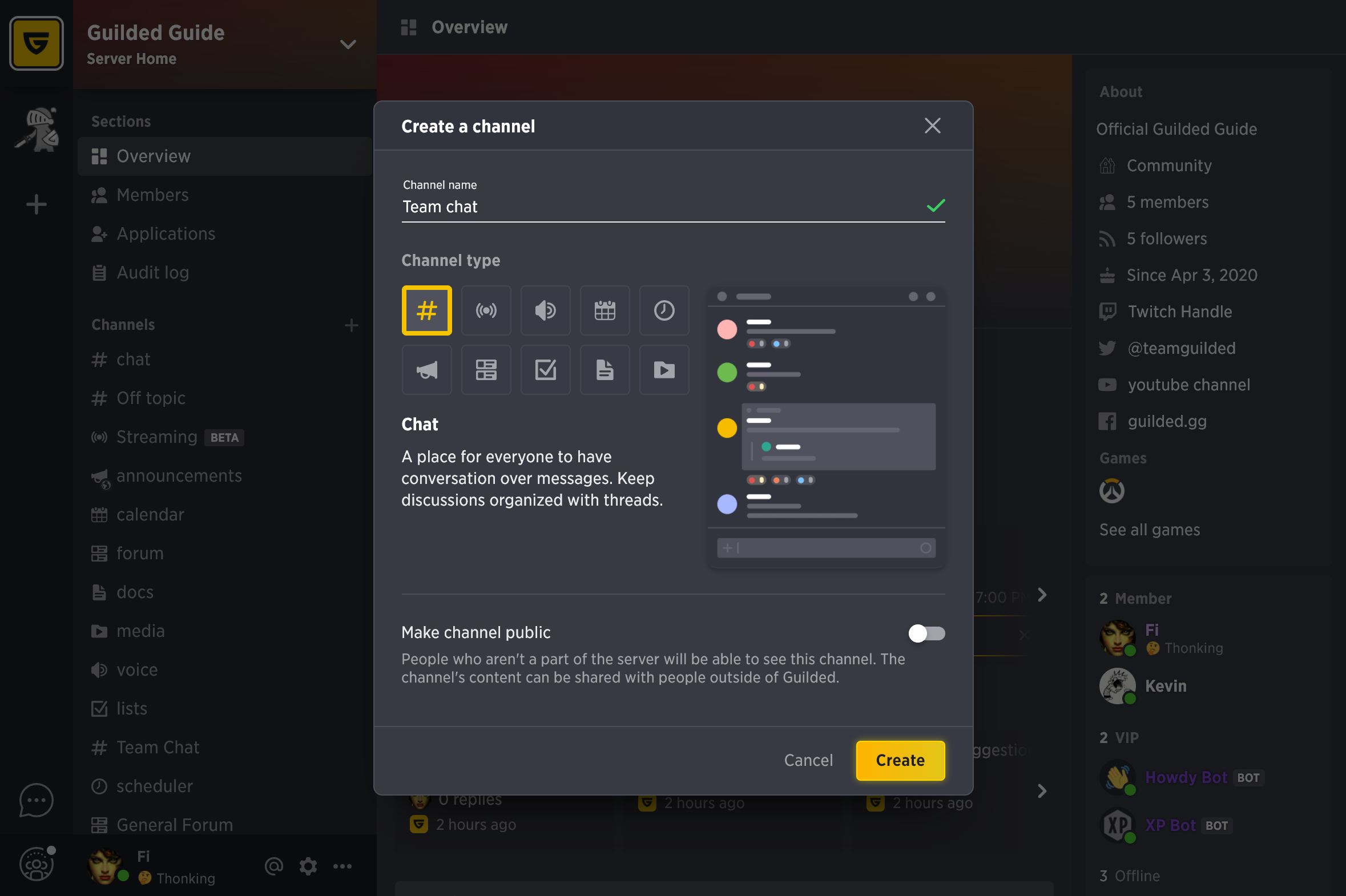 You have successfully created your new channel.
Ten different channel types that you can choose from:
Text chat:

Text chat channels are the staple of any server. Want to keep conversations organized? We have Threads for that. Need information from your server members? You can embed Forms and Polls in your chat channel. Want to pin your messages? You're not limited to 50 per channel.
Streaming: We

offer 4k streaming with 60fps, and you can also have up to 16 members streaming simultaneously in the same channel! How cool is that!
Voice:

Our voice channels have rooms within them. You can Broadcast, Whisper, and chat with up to a 256kbps voice bitrate. You can choose the best voice region for each voice channel individually!
Calendar:

No more external calendars to coordinate. With Guilded's calendar channel, you can create single or recurring events, invite members, allow RSVPs, limit attendance numbers, restrict roles, and even require a form-fill on RSVP if you need more info.
Scheduling:

Scheduling channels are great for coordinating when your community is available for an event, meeting, game night, or just hanging out regardless of where you are. Once everyone has indicated their availability, right-click and create a calendar event!
Announcements:

Announcements are a great way to let your community know the latest news, but did you know your announcement channel becomes a blog at the slide of a toggle, and your articles will be published as a public blog from your server
Forums

: Forums are great for discussing topics, asking questions, sharing opinions, and maintaining a central point to keep information that can easily get lost in a scrolling chat channel. A firm favorite with our users!
Lists:

List channels are more than just making a list. They can be a great organizational tool for workflows and tracking, or you might want to use them for ideas or requests. List items can be nested if you wish to separate them into categories, check them off, and restore them if needed.
Docs:

Many communities have their documents and articles stored on the cloud. With Guilded, you can create and keep them all on your server. You can create docs, upload images and videos, use markdowns, and there's no character limit to restrict your creativity.
Media:

Media channels are great. You can upload videos up to 200Mb in size, images up to 25Mb, and link YouTube videos that will play in our cool pop-out player.
Adding a category
Right-click Channels and select Create category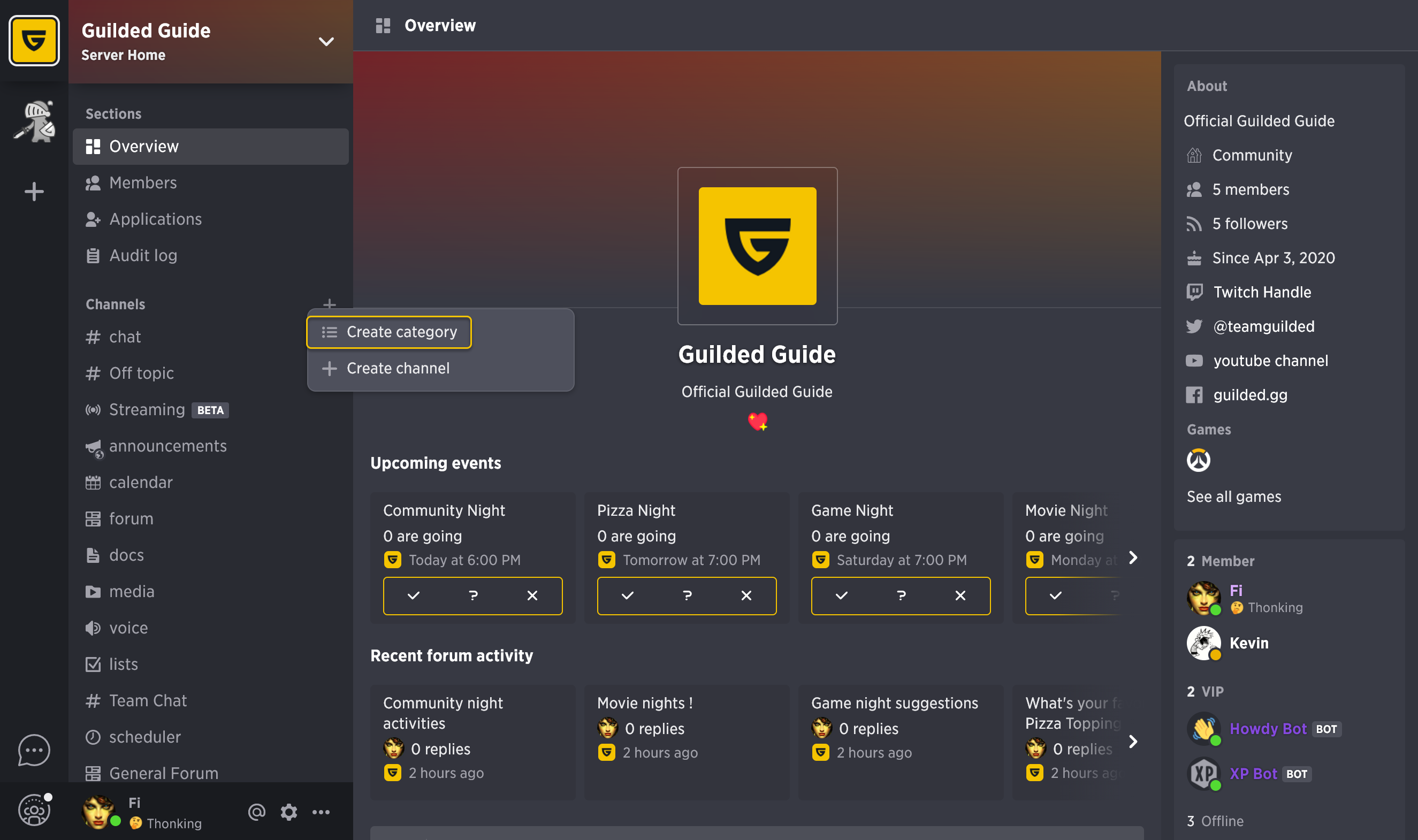 Give your new category a name of your choosing, then click Create.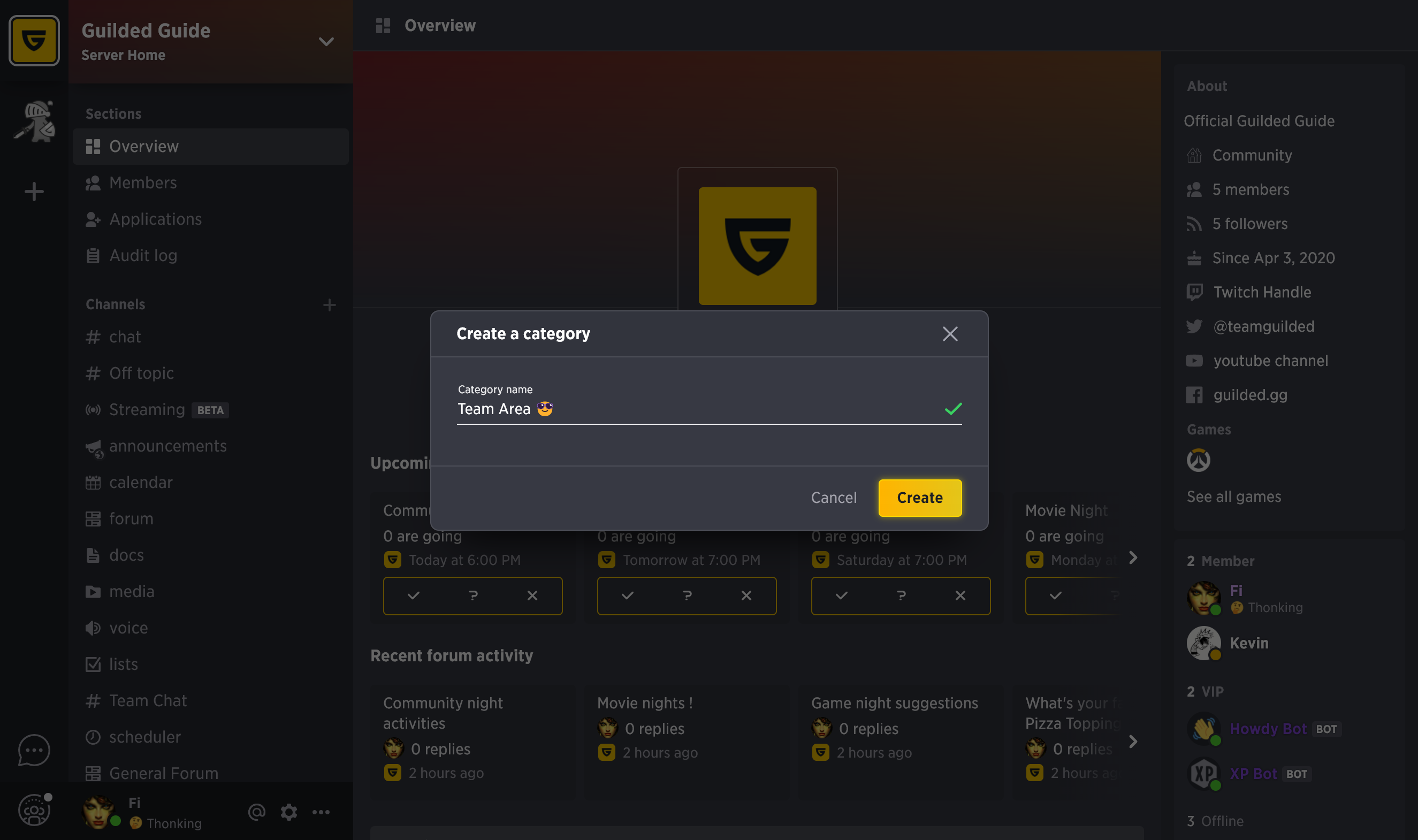 You've just created your new category!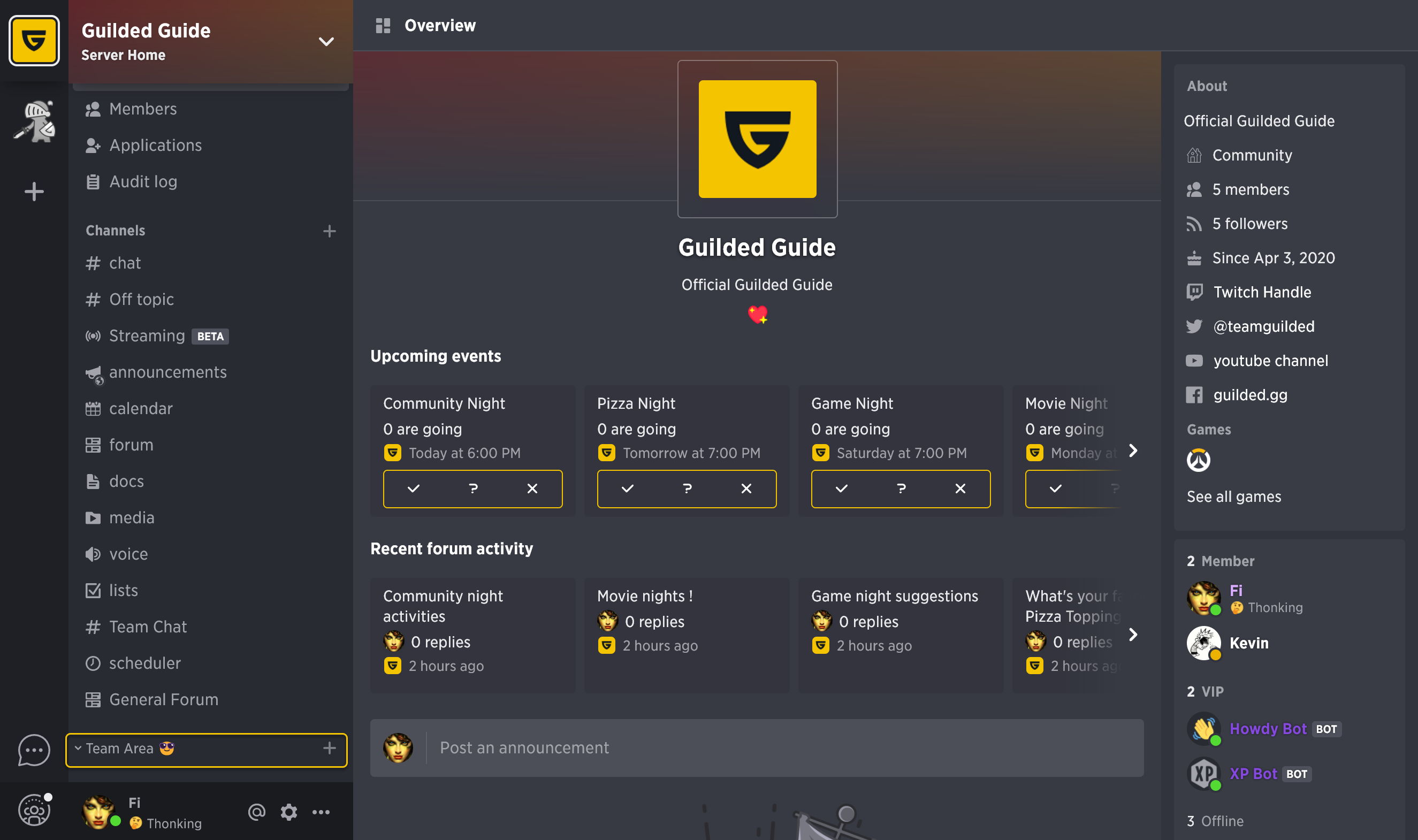 Tip : you can add emojis to channel and category names.
Organizing categories & channels
To move a category or channel, drag and drop it to where you prefer.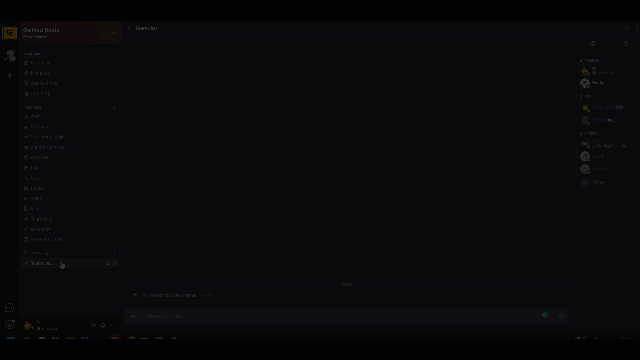 Sync permissions
If a channel is moved to a category with different permissions, you'll be prompted to confirm if you want to sync the permissions or keep the current permission for the channel. This action will automatically update permissions in a channel to match the category it is nested under.

Deleting a channel
If you no longer want to keep a channel, you can archive it to retrieve it later or delete it. You can access this menu by right-clicking on the channel name.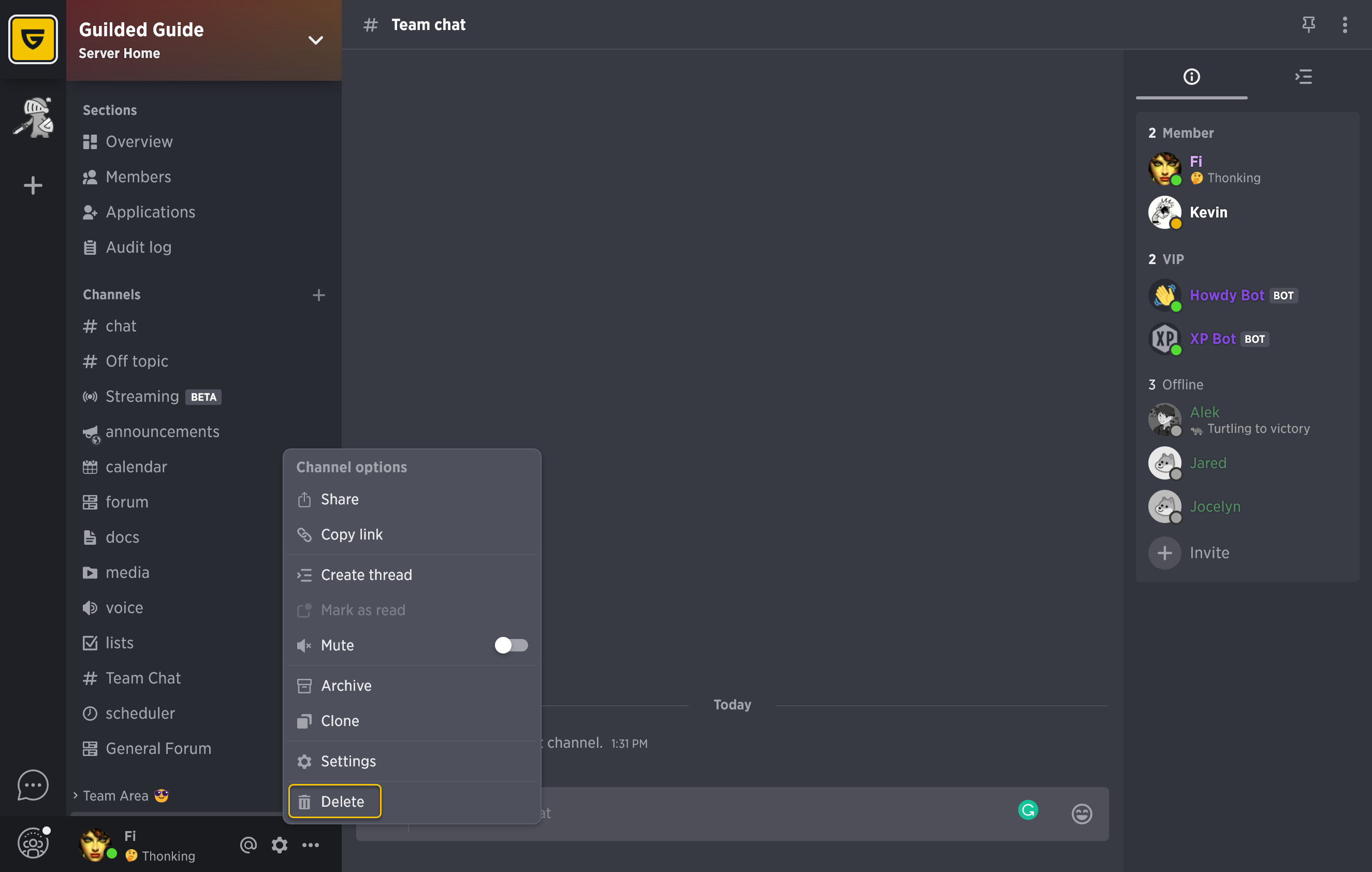 Deleting a channel is permanent. If you want to refer to the channel for any reason, we would recommend archiving the channel.
Prefer video tutorials?
Check out our YouTube channel for more step-by-step guides