Setting up Twitch rich presence and notifications
Twitch integrations are a great way to let your community know that you're streaming, as well as automatically notify your server when you go live. Here's how you can setup both of these features.
To begin, you'll want to associate your Twitch profile with your Guilded account.
From Your settings, navigate to Connections. From here, click Add.

Once you've authorized your connection, you will see your Twitch profile displayed. Under Display when I'm streaming, toggle to enable this feature, and then Save changes.

And you're set! Your profile card will now show when you're streaming. Users can also click to watch your stream in an in-app window, so they never have to leave the server.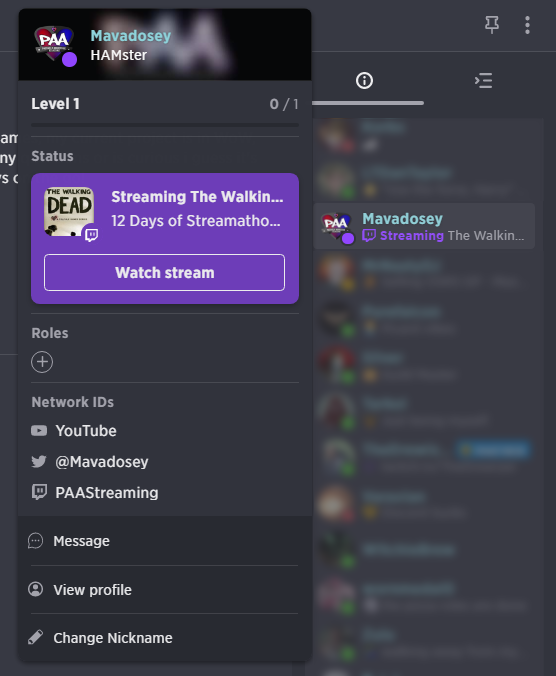 You can use bot flows to automatically alert your server when you're streaming. You can use the triggers, actions, and variables in whatever way best suits your needs, but below is a standard example of how you can send an automatic message to a channel on your server when you begin streaming.
From your server's Settings, navigate to Bots and then Create a bot. Enter a name and avatar for this bot flow (don't worry, you can edit these later). Then, select Add a flow.
In the Trigger field, press Add, and then locate and select Twitch stream online.
Under Trigger details, set which members or roles can trigger this flow. By default this field will be Any member or role. For this example, we will allow anybody with the @Streamers role to trigger this flow. Then, click Next.
Note: Only users who have linked their Twitch accounts can trigger this flow.
Under Actions, click Add, and then select Send a custom chat message.
Set any chat channel in your server that you want your custom message to be sent to, and then customize the content of the message. In the message field, type $ to access your Templating options.
In this example we will include $TriggeringUser and $TriggeringStreamLink:Link. This means that your message will include the name of the user who triggered this flow, and a link to the stream that triggered it. Click Next, and then Save your bot flow.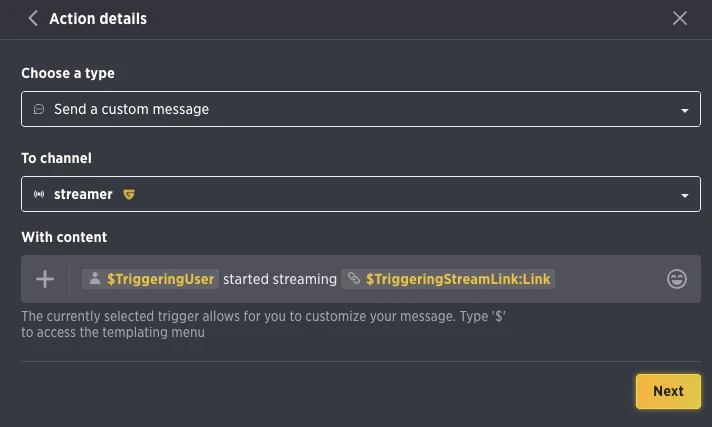 And you're all set! Now, anyone with the @Streamers role who starts a stream will automatically post a link to their stream in your server.