Quick switcher and Hotkeys
Welcome to the world of the Quick Switcher, Hotkeys, and Keybinds on Guilded! This guide is here to help you get up to speed on these powerful tools. With a little practice, you'll be navigating Guilded with ease and efficiency
Quick Switcher
Our quick switcher tool allows you to navigate around Guilded quickly and effortlessly.
Windows: CTRL

+P

or CTRL

+K

(or additionally on Desktop app only:

CTRL+T

)
Mac: ⌘

+P

or ⌘

+K

(or additionally on Desktop app only: ⌘

+T

)
This will bring up the quick switcher menu, where you can see the Last channel, Recent channels, and Unread channels and allowing you to navigate to the channels you want to see quickly.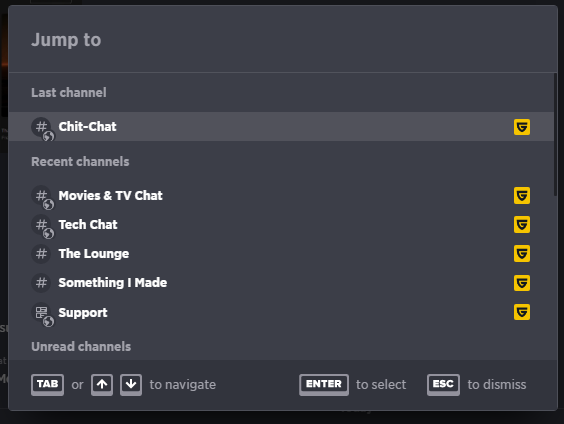 PROTiP: CTRL + K and Enter will take you directly back to the last channel you were viewing.
PROTIP: Recent channels show a list of the five most recent channels you visited, so if you're navigating around to find something, you can usually find your way back through this menu.
When the menu is open, you can type @ to see your recent DMs, #+[channel name], ! + [voice channel name], leaving out the channel name will show all the chat and voice channels across all the servers you are a member of.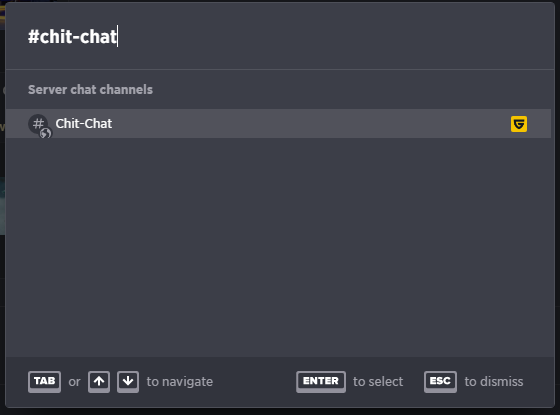 Hotkeys
Learning how to use the preset hotkeys is great to help you move around Guilded with ease.
Task

Windows

Mac

Swap to the last channel

CTRL + ;

⌘+ ;

Navigate to next/previous unread channel

Alt + Shift + up/down

Option + Shift + up/down

Edit most recent message in chat

Up Arrow

Up Arrow

Toggle server list

CTRL + S

CMD + S

Go to next /previous group

CTRL + Tab (next)

CTRL + Shift + Tab (previous)

⌘ + Tab (next)

⌘ + Shift + Tab (previous)