Setting up Patreon integrations
Patreon integrations allow campaigns to automatically share data with your Guilded server. This allows server owners to customize bot triggers based on information shared by Patreon. Here's how to get started.
Connecting Patreon to your Guilded server
Navigate to your server's Settings menu and then to Integrations. From the list of integrations available, locate Patreon and select Add.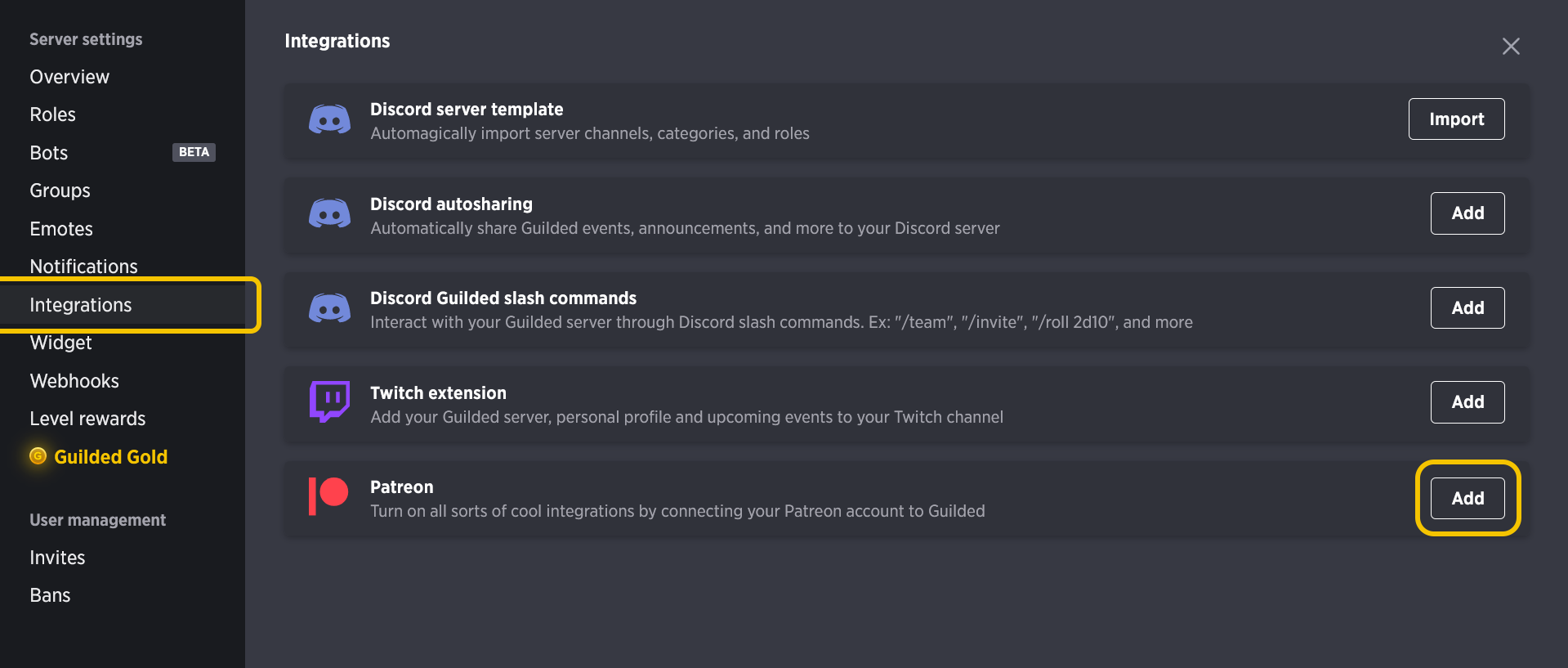 A new authorization window will open. If you are setting up your integrations on a browser and do not immediately see a new window appear, please check your popup blocker.
Follow the steps in the Patreon authorization modal, and then press Allow.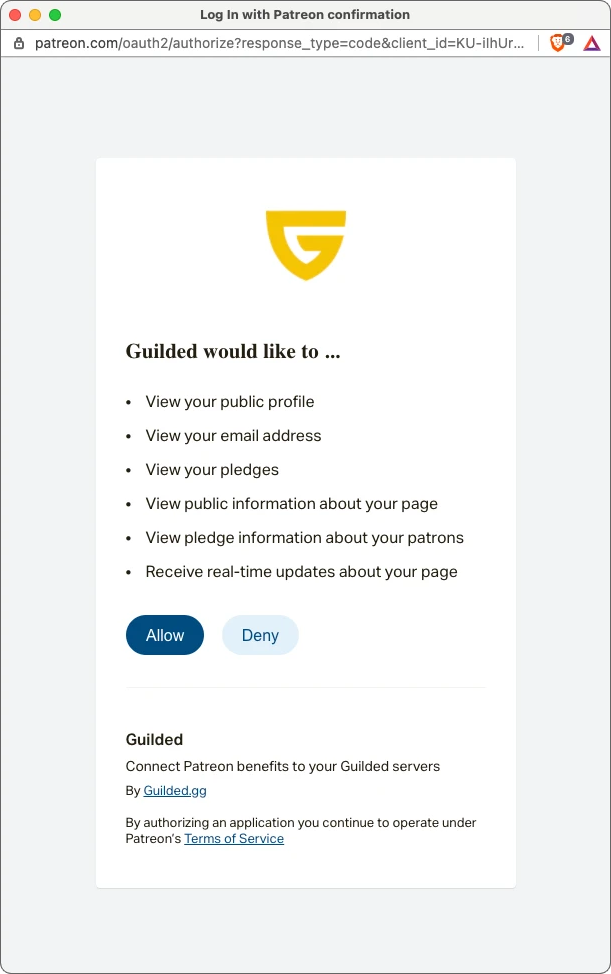 Once you've completed the steps to authorize your connection between Patreon and Guilded, your integrations will update to reflect your Patreon username. You can disconnect Patreon from your server at any time from this section by interacting with the ⋮ icon by this integration.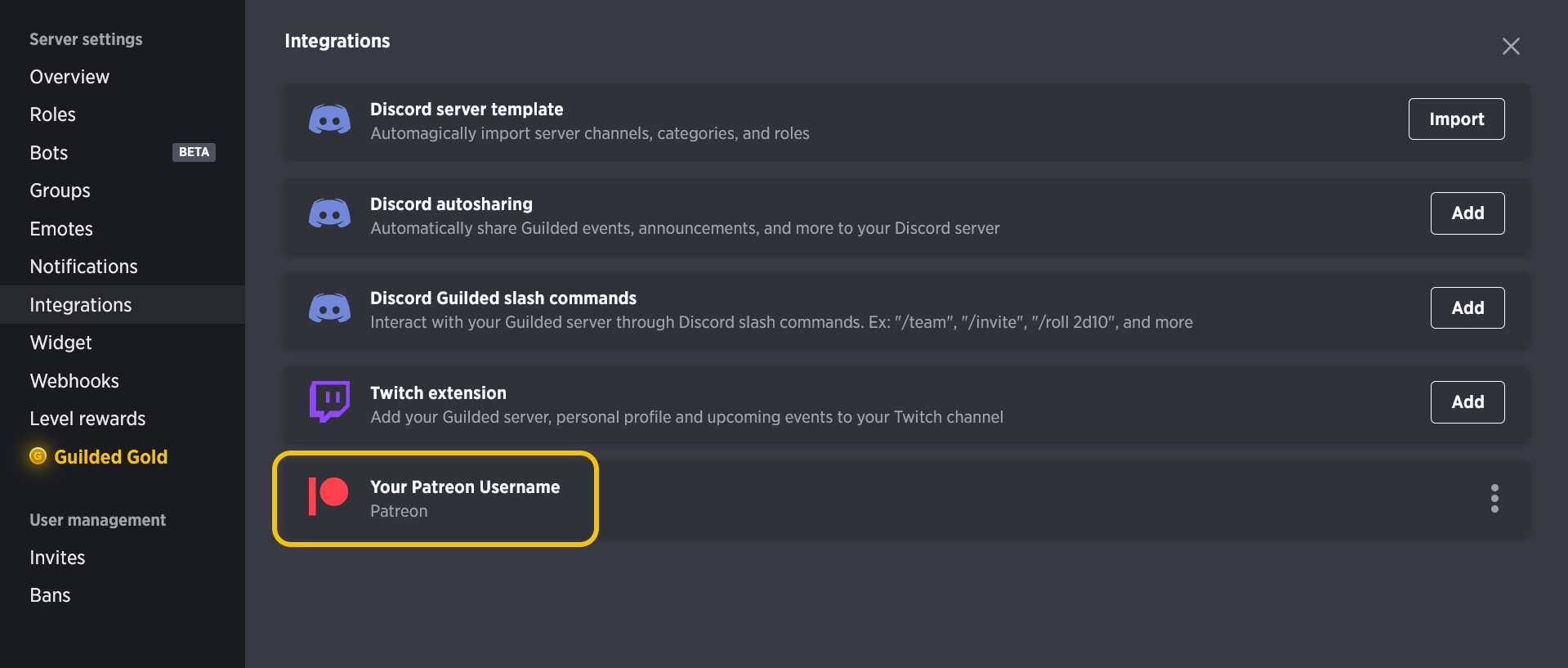 Connecting Patreon triggers to server actions
Now that you've connected Patreon to your server, some information about your server can be provided to Guilded, including your campaign's pledge tiers and who is pledged to them. With this information, you now have access to two Patreon bot triggers:
Patreon tiered membership created, for when a member pledges to your Patreon campaign
Patreon tiered membership cancelled, for when a member cancels their Patreon pledge
These triggers can be used in conjunction with Bot builder's actions for a number of automated flows, including announcing when new members have pledged, or to automatically assign roles for pledges.
To assign a role in your server for Patreon pledges, navigate to Bots in your server's Settings, and then select Create a bot. Under Flows, hit Add.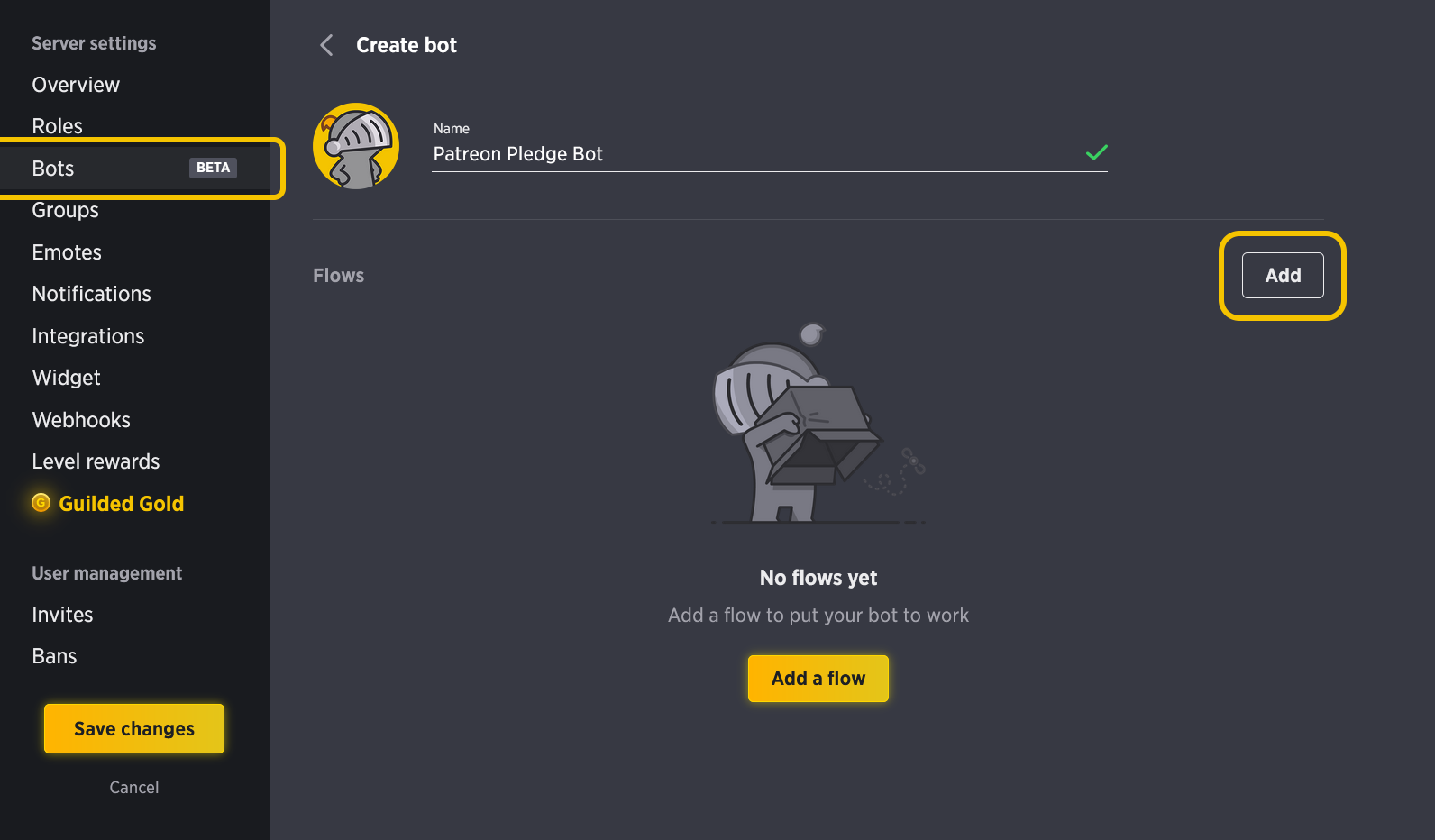 In the Add a flow modal, under Trigger, select Add. Locate the trigger Patreon tiered membership created and hit Select.
If your Patreon campaign includes multiple pledge tiers, they will be automatically populated in the Membership tier drop-down. For this example, we will set this trigger to Any tier. Once you've configured, hit Next.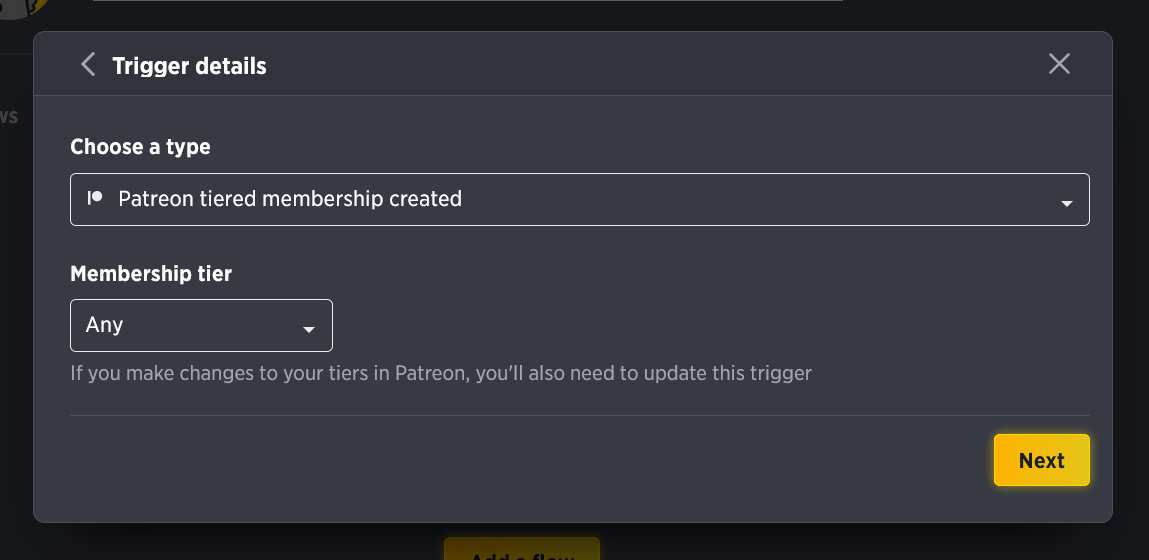 Back to the Add a flow modal, go to Action and then hit Add. Locate the Assign role action and then hit Select.
Under Action details, a drop-down labeled Role to assign will become available, featuring all available roles on your server for this trigger. Note that if you have multiple roles you which to assign depending on the pledge tier, you will need to create a flow for each of these (but don't worry, you can clone flows in your bot and edit them to suit your needs).
Select the role you wish to assign for this trigger, and then hit Next.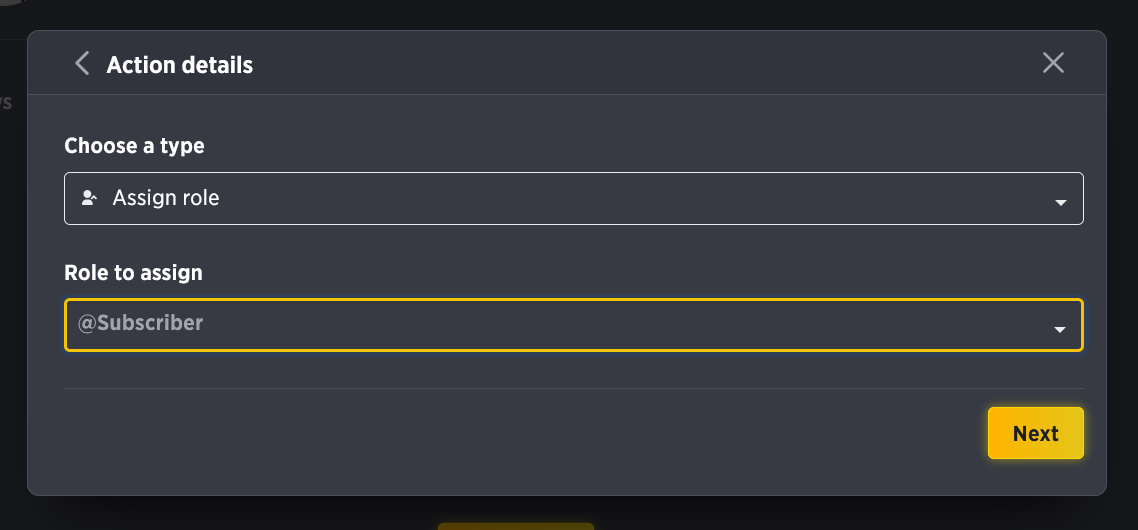 Hit Save to complete this flow.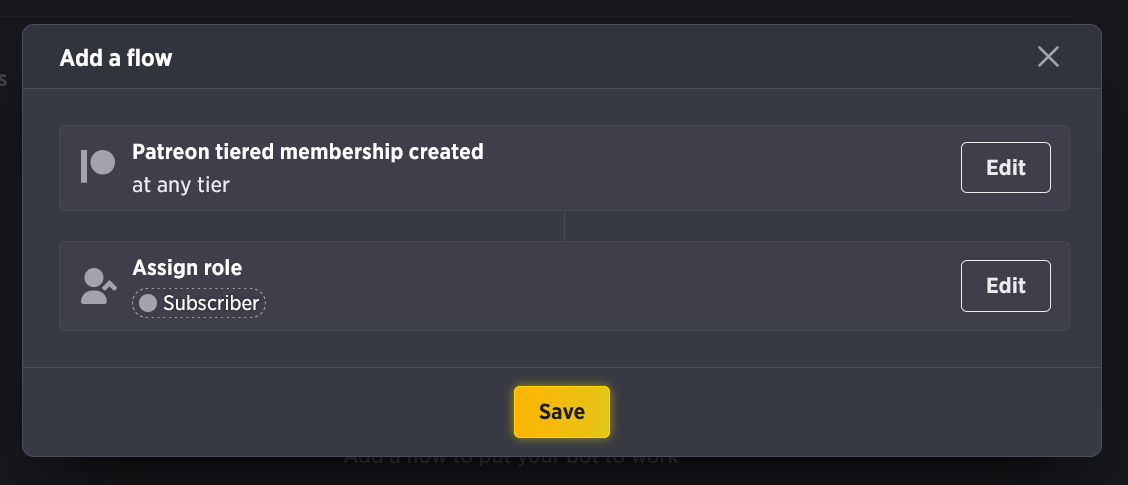 Next, you may want to create a second flow to undo this role assignment if a member chooses to cancel their pledge. You can clone the flow you just created by hitting the ⋮ icon to the right, and then edit to change Patreon tiered membership created to Patreon tiered membership cancelled, and Assign role to Remove role. Then, hit Save.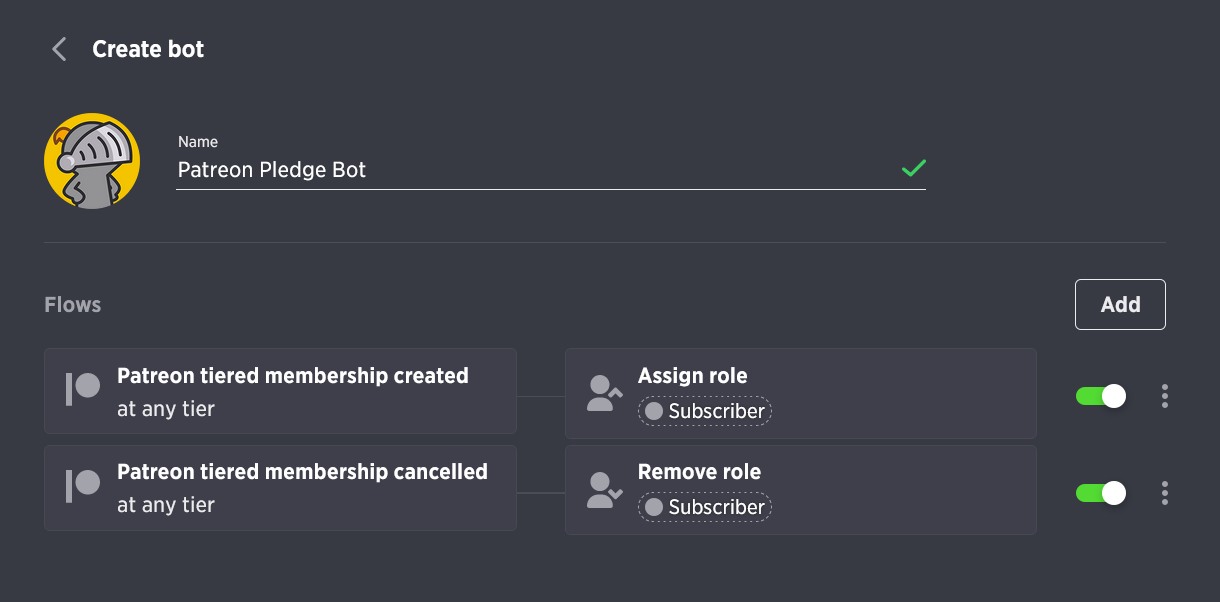 Give your bot a name and image and then hit Save changes. You now have an automated process for assigning and removing roles from members of your server when they create or cancel pledges to your campaign.