The Members list is a powerful tool that empowers you to manage your server effectively. Located right underneath any server's Overview section, it provides additional functionalities to oversee and organize your server members.
With the Members list, you can easily view and navigate through the members of your server. It allows you to access important information about each member, such as their roles, online status, and activity. This enables you to keep track of your server's community and make informed decisions regarding member management.
Furthermore, the Members list offers various management options. You can perform actions like promoting or demoting members, adjusting their permissions, and removing members if necessary. These tools ensure you have the control required to maintain a healthy and well-managed server environment.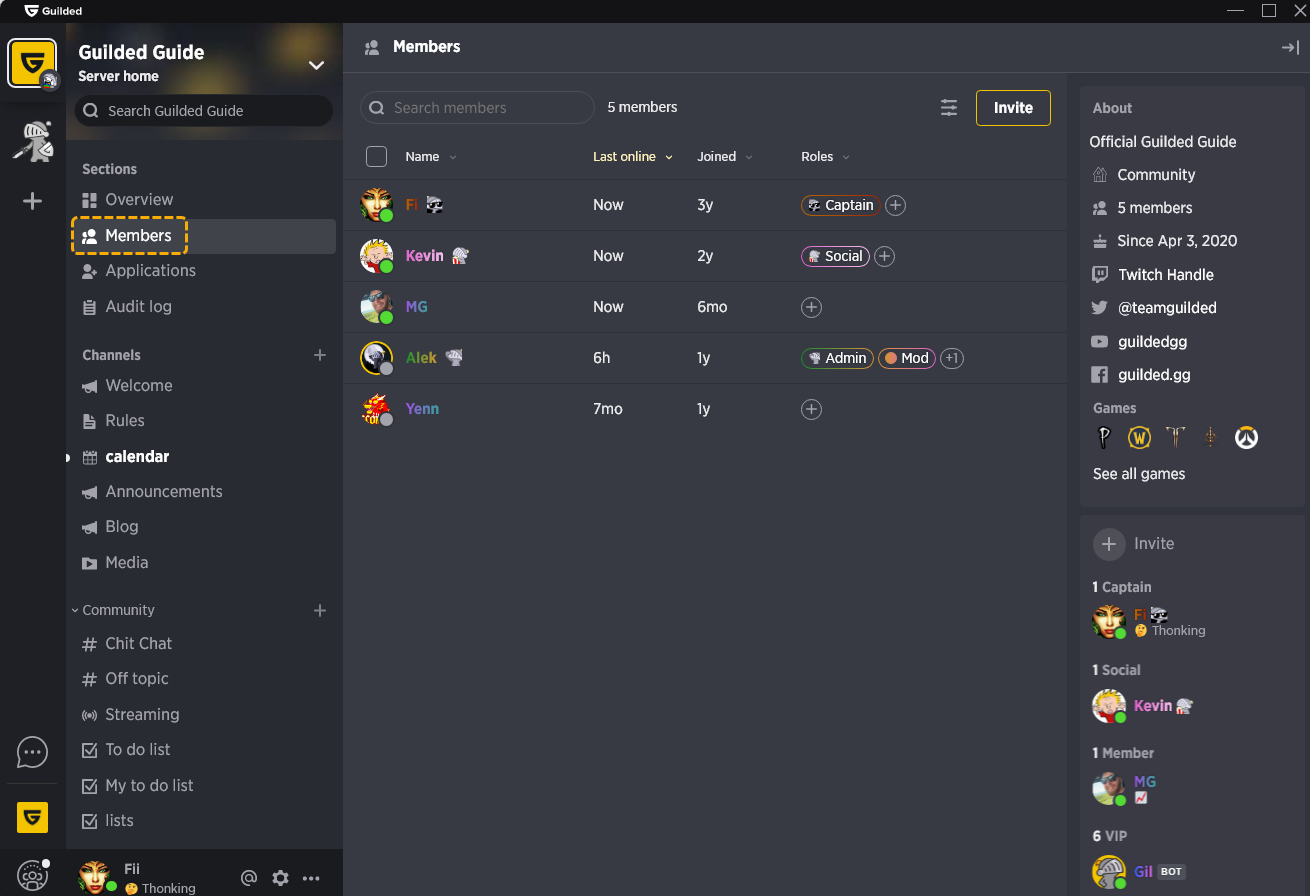 Search
You can quickly locate specific members within your server without manual scrolling. Simply enter the name of the member you're looking for, and the search feature will provide instant results

Sorting
The Members list offers the ability to sort members based on different criteria, providing flexibility in organizing and managing your server. You can easily arrange members by name, last online, join date, or roles.
Sorting by name allows you to order the members alphabetically, making locating specific individuals or navigating through the list more manageable.
Sorting by last online helps you identify the most active or recently active members, ensuring you stay informed about the server's engagement.
Sorting by join date enables you to see the order in which members join the server, which can help track the growth and history of your community.
Sorting by roles allows you to group members based on their assigned roles, making it convenient to identify individuals with specific responsibilities or permissions.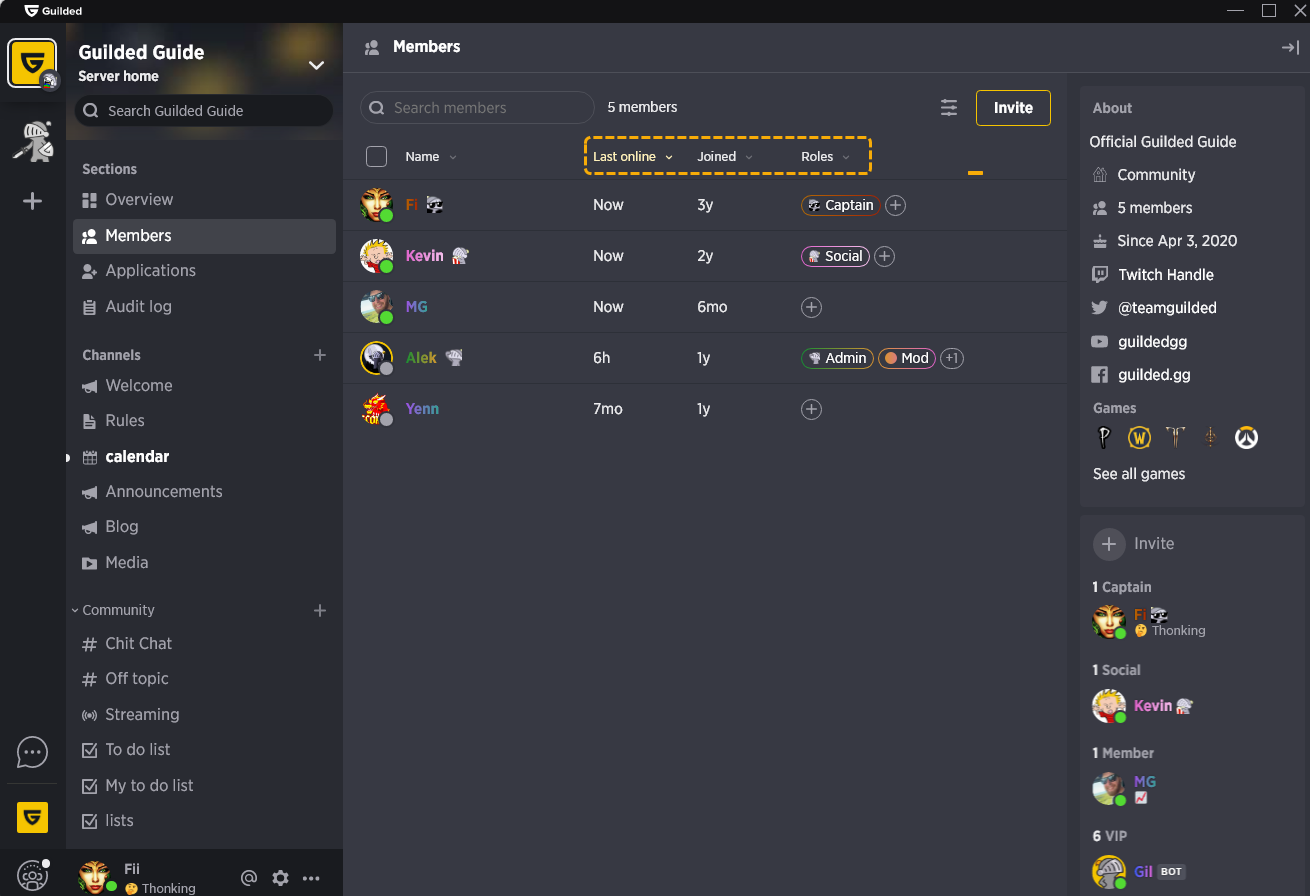 Filtering
The Members list offers a convenient filtering feature that narrows the list based on specific criteria. You can apply filters to limit the displayed members to specific roles, join dates, or last online status.
By filtering by roles, you can focus on specific groups within your server, making it easier to manage and communicate with members with similar roles or responsibilities.
Filtering by join dates enables you to isolate members who joined during a specific timeframe, which can help track growth or identify newcomers.
You can filter by last online status if you need to identify active or inactive members. This allows you to quickly view and interact with members who have recently been active or may require attention.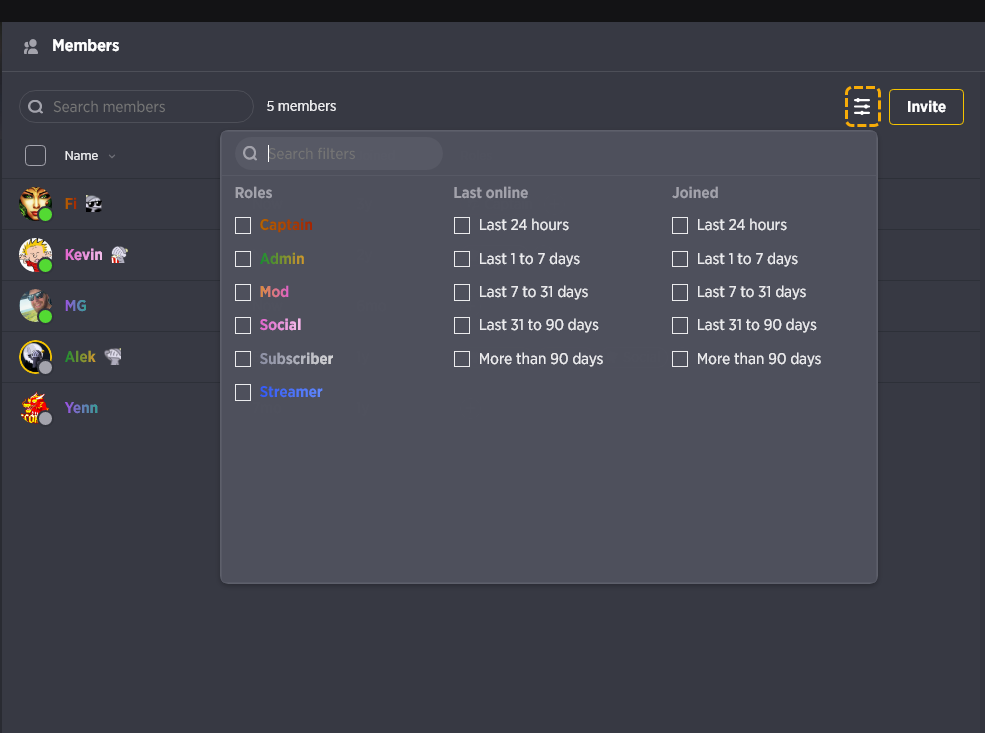 Group select
The Members list includes a convenient group select feature that allows you to select multiple members simultaneously for various actions, such as managing roles or removing them from your team.
By utilizing the group select feature, you can efficiently perform tasks involving multiple members, saving time and effort. This can include assigning or modifying roles for a group of members simultaneously or removing them from your team if necessary.
It's important to note that when you click Remove while using the group select feature, the selected members will be kicked from the server. This applies to both individual member selections and group member lists. Please exercise caution when using this action to ensure it aligns with your intended actions and server management goals.