In this guide, we'll explore the functionalities of Direct Messaging (DM), Screen Sharing, and Voice Chat. These tools offer dynamic communication options, from one-on-one conversations to group chats. They enable you to chat, share screens, make video calls, or engage in voice chats.
Using direct messaging
Click the chat bubble icon to start a DM.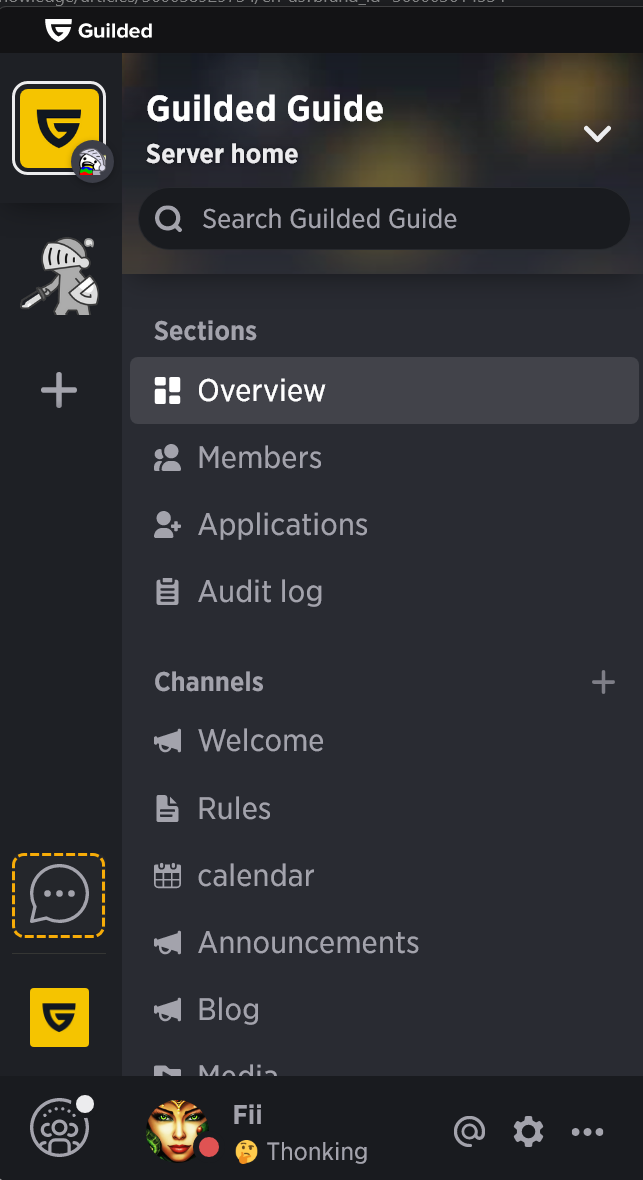 At the top of the page, click the + button.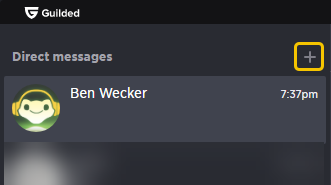 Search for the user you want to chat with:

Once all users you want to add to a DM are selected, click Confirm.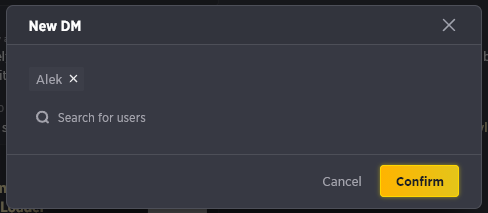 Follow the same process for a Group DM and add the extra members.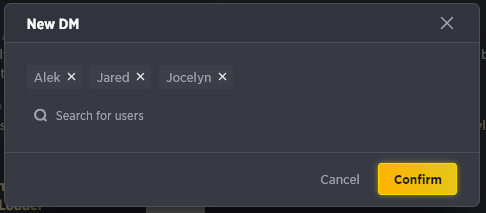 Pinning messages
You can pin messages in a DM to quickly refer to later. Hover over the message you want to pin and click the Pin message icon in the overflow menu.

A confirmation box will pop up. Select Pin it!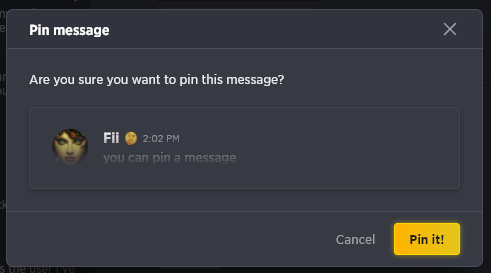 You can see all your pinned messages by clicking the pin icon at the top menu bar of your DM. To unpin a message, click the X button.

In addition to text chat, you can start a voice call, video call, or screen share in DMs.
Starting a voice or video call
You must initiate the direct message by typing in chat to activate the session for video calls.
Click either the voice (phone icon) or video (camera icon) button at the top right bar of your DM.
Your direct message will now convert temporarily to a streaming channel. Cool huh!

On-screen controls
Grid View: View all call or stream participants.
Focus View: Concentrate on one participant at a time.
Add Participant: Invite others to join the call or stream.
Screen Share: Share your screen with participants.
Turn Camera On/Off: Control your video feed.
Mute: Silence your audio feed.
Deafen: Mute all incoming audio.
End Call: Terminate the ongoing call or stream.
Theatre Mode: Enhance your viewing experience.
Full Screen: Maximize your viewing area.
Voice and Video Settings: Customize your audio and video preferences.
Screen sharing: clicking this button will allow you to share your screen or application window.