Have a problem? Let us know!
If you need any more help on Guilded, our dedicated Community Team is available to help you. Whether you have questions or concerns, or need help with any issues, our team is here to lend a hand. To ensure you interact with a verified Guilded Staff member, look for the distinctive Staff badge next to their name.

When you reach out to our Community Team, they will address your query and provide guidance. In most cases, they will initiate a direct message (DM) with you to ensure a seamless and efficient resolution to your issue.
Just to let you know, Guilded Staff members will never ask you to share personal information via emails or text messages, such as your passwords or identification. Please disregard any such communication.
Use the in-app menu for the quickest and easiest way to contact our team.
Click on the ... menu located in the app.
From the menu, select "Support."
Selecting Support will open a new window, allowing you to communicate directly with our support team. Here, you can just report any issues you're having or help with any challenges you may be having.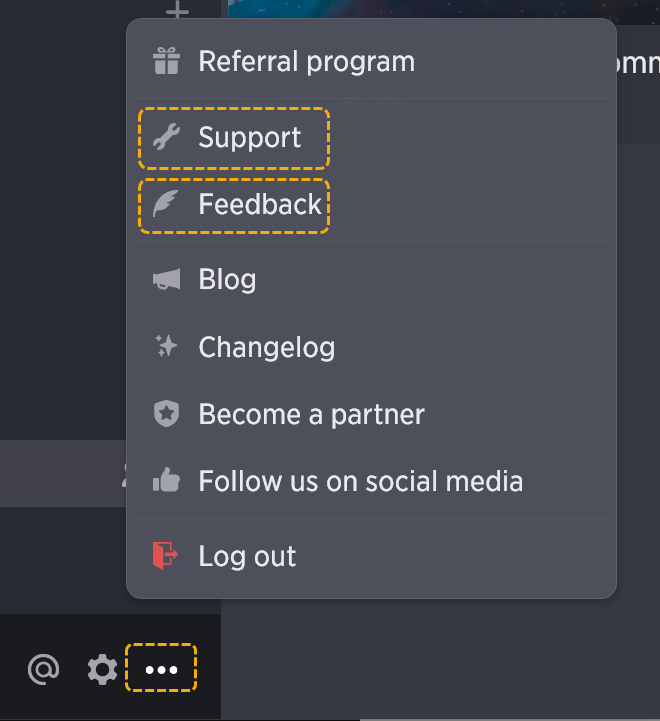 At Guilded, your feedback is highly valued as we constantly strive to enhance your experience on our platform. We are committed to listening to your suggestions and implementing new features to improve Guilded. If you have any ideas, recommendations, or ways in which we can improve, we encourage you to share them with us.
Or drop us an email to support@guilded.gg