For bloggers ready to showcase their knowledge and experiences, creating a blog on your Guilded profile is a streamlined process. You can begin sharing your ideas with the community effortlessly.
Start Your Blogging Journey:
You can create a new post by visiting your profile page.

Let Your Ideas Flow: Create your post with insights, stories, or daily adventures.
Go Live: Click Post to share your thoughts with the community. Your content is now live on your feed.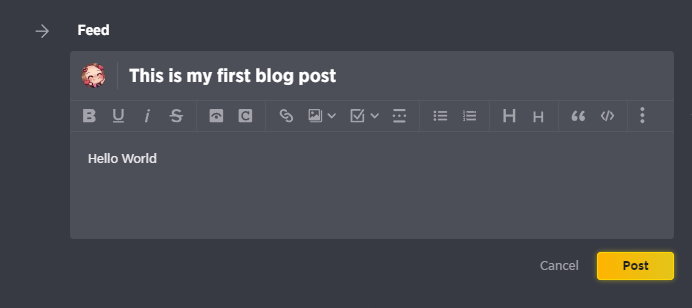 Showcasing Your Work:
Publish to the World: Use the menu button on your post to publish it.

Personalize Your Space: Customize your blog's URL for a personal touch; use hyphens to separate words.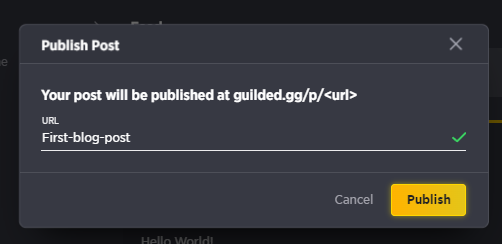 The Big Reveal: Finalize the process by selecting Publish; your work is available for all to see. You will have a banner on your blog so you know it's live and a hyperlink to view.
Spreading the Word:
Every Post is Unique: Posts have individual URLs for easy sharing.
Discoverability is Key: Enhance your presence with a Vanity URL, leading directly to your profile.
Managing Your Content:
Unpublish Your Blog:

In the post menu, select Unpublish.
Confirm your choice when asked.
This will remove the public visibility of your blog while keeping the post on your feed. The unique URL will become inaccessible.
To remove a blog post from your Profile feed:

Access your Profile feed.
Identify the blog post to delete.
Access the menu for the post.
Choose Delete and confirm when prompted.
With your Guilded profile now hosting your blog, you're all set to share your insights and engage with a wider audience. Your narrative has the platform it deserves. Your digital footprint expands as you continue to post, inviting new opportunities for connection and growth.