How to create Self-assignable roles
Self-assignable roles are a role that anybody on your team can grant themselves. These can help members identify a specific role, class, or platform preference. Any role can be made into a self-assigned role by enabling this option in the Roles menu:
How to set up self-assignable roles
Go to Settings > Roles and turn the Self-assignable toggle to on.
When a role is self-assignable, users will select the role from the Role Card, which is expanded upon clicking the role in an @ mention.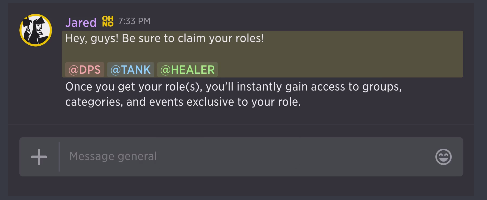 Using self-assignable roles can efficiently give your team members access to groups, categories, and channels specific to their roles.