When it comes to file uploads on Guilded, we offer generous limits, and the best part is, it's all completely free! You can upload files up to 500MB in size, allowing you to easily share large files with your team. Whether it's documents, videos, audio files, or other supported formats, Guilded provides you with the freedom to collaborate and share without restrictions. For image files, you can upload files up to 25MB in size, ensuring you can share high-quality visuals effortlessly. Enjoy the convenience and freedom of our free file uploads on Guilded.
Uploading Files
Tip: The quickest way is to drag and drop the file into the content or chat box, and we will work our magic on doing the rest.
Just so you know, if you are not getting the modal upload box when dragging and dropping, please check that you are not running Guilded as Administrator. This is a Windows feature that will prevent you from doing so.
In any chat channel, click the plus button on the left and select Media or file.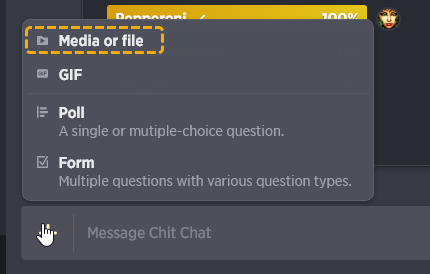 The Media or file option can be found in the editor bar in other channel types except for chat.

You can then choose a file from your computer by browsing your files or dragging and dropping or pasting from your clipboard.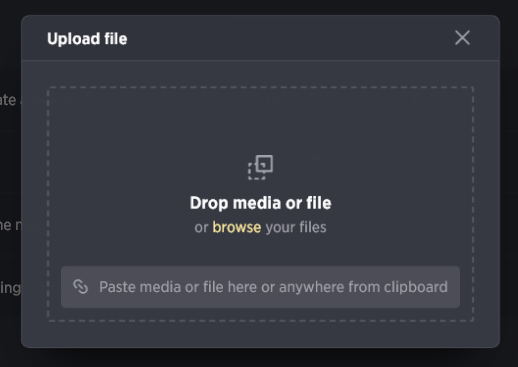 Supported file types
| | |
| --- | --- |
| Image | jpeg, jpg, tif, tiff, gif, jif, png, webp, apng, bmp, svg, heif |
| Video | mp4, mpeg, mpg, mov, avi, wmv, qt, webm |
| Audio | flac, mp3, wav, wma, aac, alac, m4a, ogg |
| Roblox | rbxl, rbxlx, rbxm, rbxmx |
| Other | zip, txt, csv, pdf, docx, md, otf, doc, json, rar, 7z, gz, XML, xlsx, pptx, xls, ppt, rtf, odt, ods, ttf, sto, cs, csproj, HTML, js, rb, py, obj, fbx, blend, PSD, ai, prpoj, indd, aep, afphoto, afdesign, ico, rpy, rypc, rpa, fla |
500MB
25MB for Image files, except for SVGs, which are up to 500MB
If you are a server owner and want to restrict who can upload files, you can manage the Upload files permission in your
role permissions.