We know that uploading different types of files is crucial to many Guilded communities, and we've been listening. That's why we're thrilled to announce that you can now upload generic file types to any content channel! Whether you're sharing files in Chat, Voice, Streaming, Announcements, Forum, Doc List, or Calendar, you can now easily upload and share all types of files. This is a great way to make sure that everyone in your community has access to the information they need, regardless of the file type. So what are you waiting for? Start sharing your files today and see how much easier it makes your community collaboration!
Uploading Files
Tip: The quickest way is to drag and drop the File into the content or chat box, and we will work our magic on doing the rest.
Note: If you are not getting the upload modal box when dragging and dropping, check that you are not running Guilded as Administrator. This is a windows feature that will prevent you from doing so.
In any chat channel, click the plus button on the left and select Media or file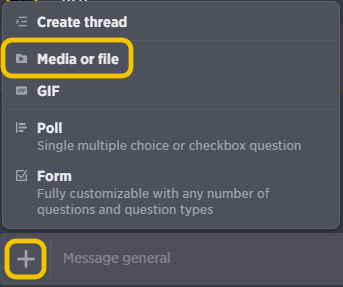 If using one of the other channel types mentioned above, use the editor bar

You can then choose a file from your computer by browsing your files or dragging and dropping or pasting from your clipboard
If uploading to chat, this is how it will appear. You will be able to open and download the file from here.

Supported file types
| | |
| --- | --- |
| Image | jpeg, jpg, tif, tiff, gif, jif, png, webp, apng, bmp, svg, heif |
| Video | mp4, mpeg, mpg, mov, avi, wmv, qt, webm |
| Audio | flac, mp3, wav, wma, aac, alac, m4a, ogg |
| Roblox | rbxl, rbxlx, rbxm, rbxmx |
| Other | zip, txt, csv, pdf, docx, md, otf, doc, json, rar, 7z, gz, XML, xlsx, pptx, xls, ppt, rtf, odt, ods, ttf, sto, cs, csproj, HTML, js, rb, py, obj, fbx, blend, PSD, ai, prpoj, indd, aep, afphoto, afdesign, ico, rpy, rypc, rpa, fla |
500MB
25MB for Image files, with the exception of SVGs, which are up to 500MB
If you are a server owner and want to restrict who can upload files, you can manage the Upload files permission in your
role permissions.