Polls are a fantastic interaction tool for your team, perfect for everything from setting up fun events to gathering essential feedback from your members. You can initiate polls across any content channel to maximize participation and drive engagement. Here's a quick guide on how to create a poll in a chat channel.
Remember, you can add up to 10 options for each poll, so you'll have plenty of room for all the possible choices you'd like to offer.
Permissions
You control whether your team gets a peek at the poll results. A quick toggle in the Form permissions lets you choose who sees what.
It's all about giving you the choice to open up the results for team collaboration or keep them under wraps for a big reveal later on.
And if you like to keep poll creation a special privilege, no problem. You can specify which roles can do this in the Chat permissions. Keep it as open or as exclusive as you like!
Creating a poll
To create a poll in a chat channel, follow these simple steps:
Open the chat channel where you want to make the Poll.
Click the + icon and select the Poll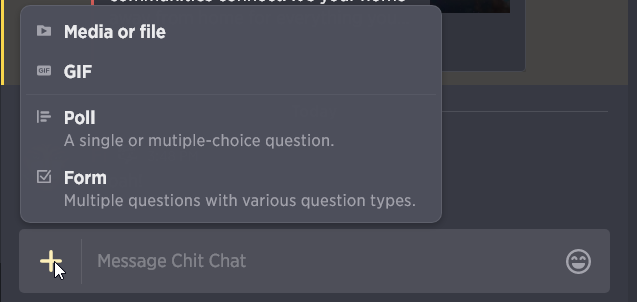 You can also create a poll in a doc, forum, or calendar event
Fill out the information for the Poll and choose from Single choice or Multiple choice for your responses.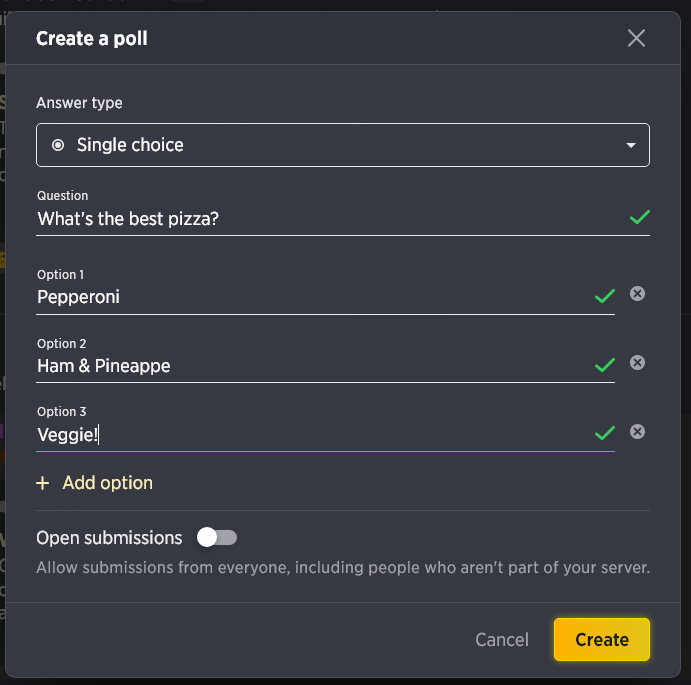 Click Create.
If you want to edit or delete the Poll, you must edit your message and then edit your Poll.

Choose the appropriate option from the menu to edit or delete the Poll.

Congratulations! You've successfully created a poll.