Setting up permissions
This is an overview of the permissions available.
1. Head over to your server's Settings.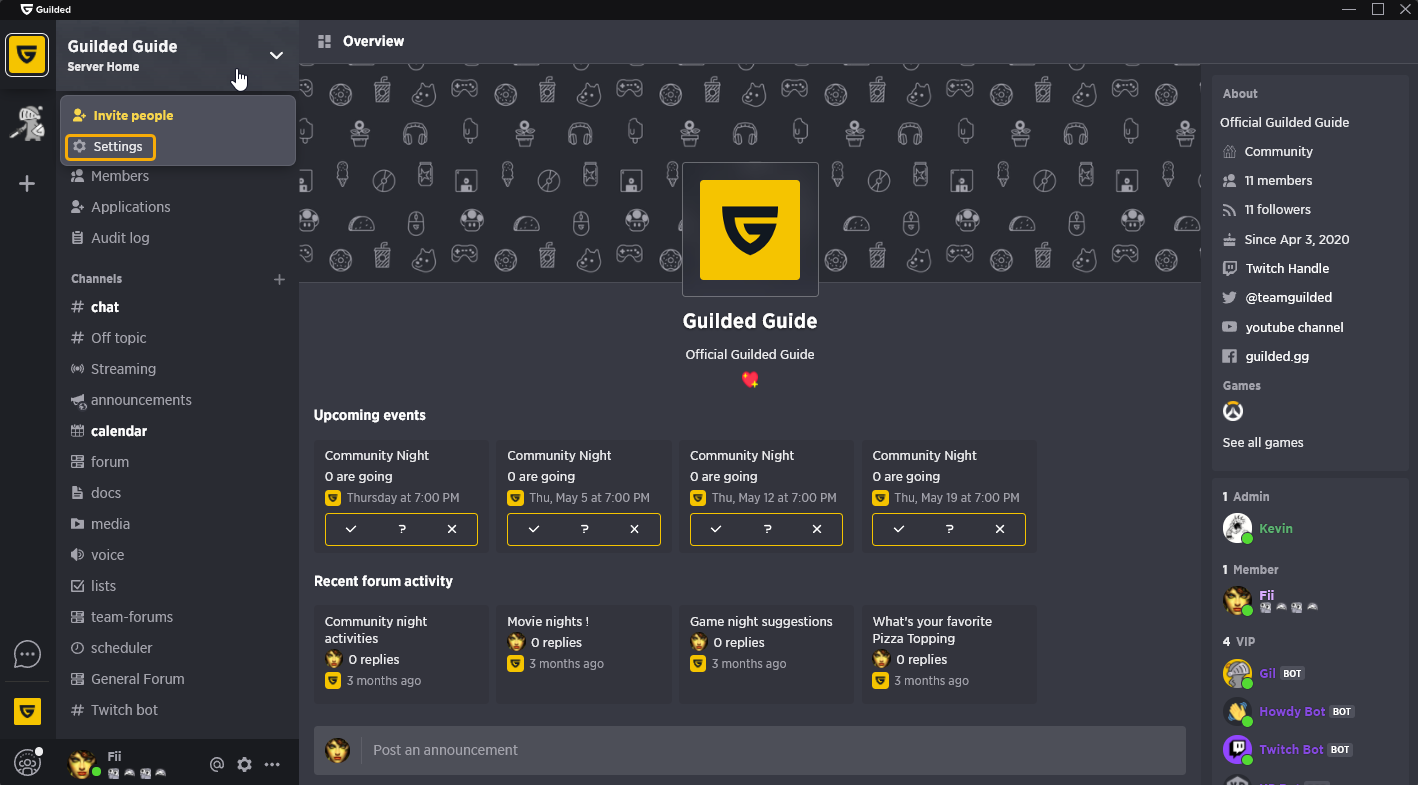 2. Navigate to the Roles section.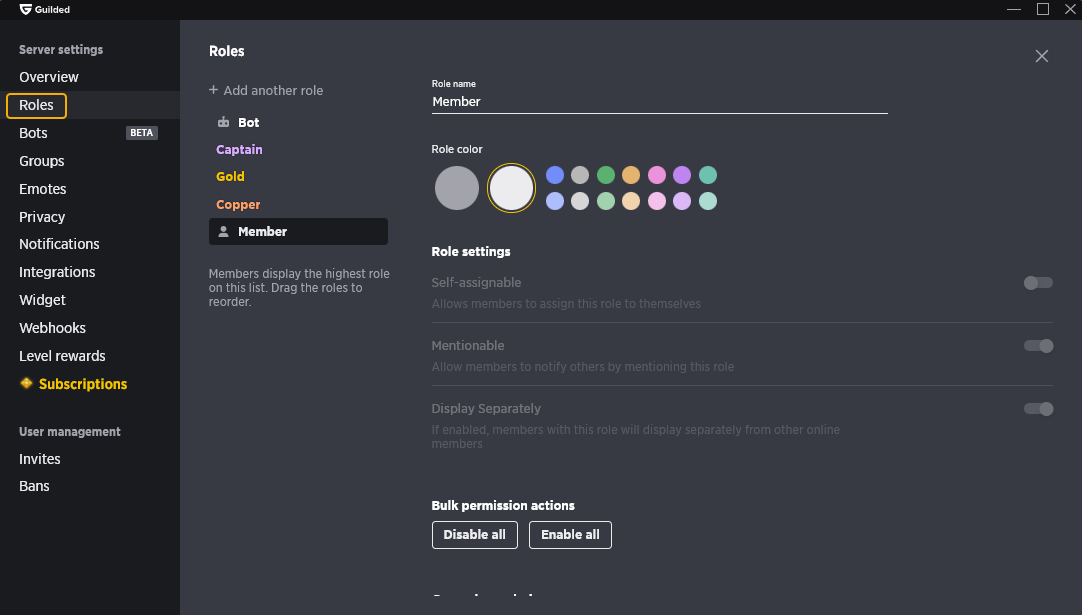 You can control the levels of permissions granted to your team members.
Assigning permissions to Roles can create different levels of hierarchy.
Hierarchy:
The server owner has all permissions. The Member role is your base role. Any other roles must be added to category and channel permissions for the necessary permissions to be applied.
There is not an exclusive admin role in addition to the server owner. Any mod/admin/staff roles must also be added to Categories, Channels, and Groups.
Role settings:
Find out more about Using Self-Assigned Roles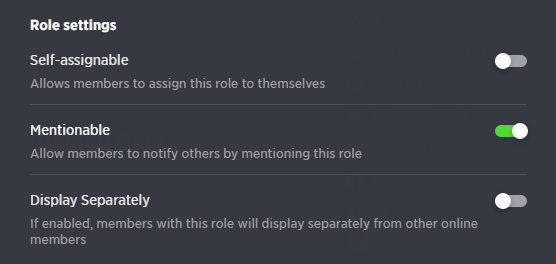 Bulk permissions: allow you to disable or enable all permissions.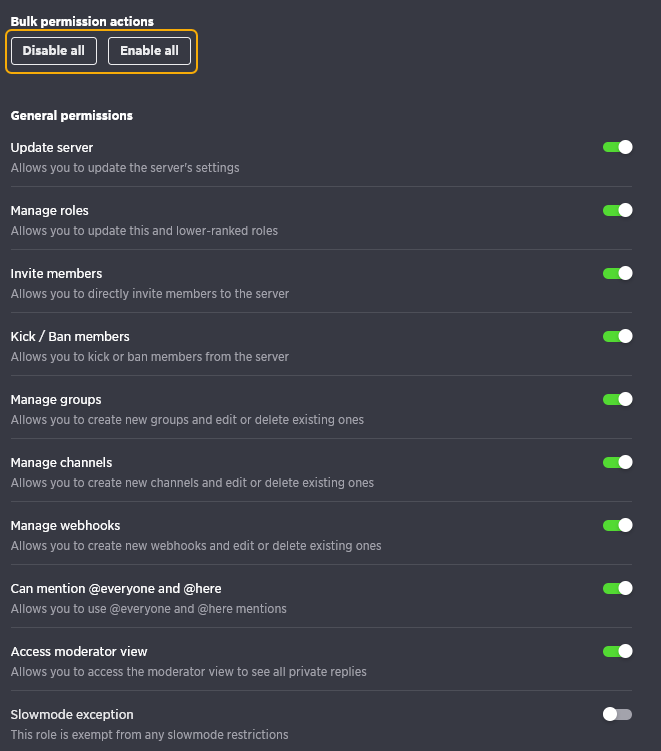 To make things easier and quicker when setting your permissions, each section has a Ctrl + Click shortcut to toggle all permissions for that section on or off.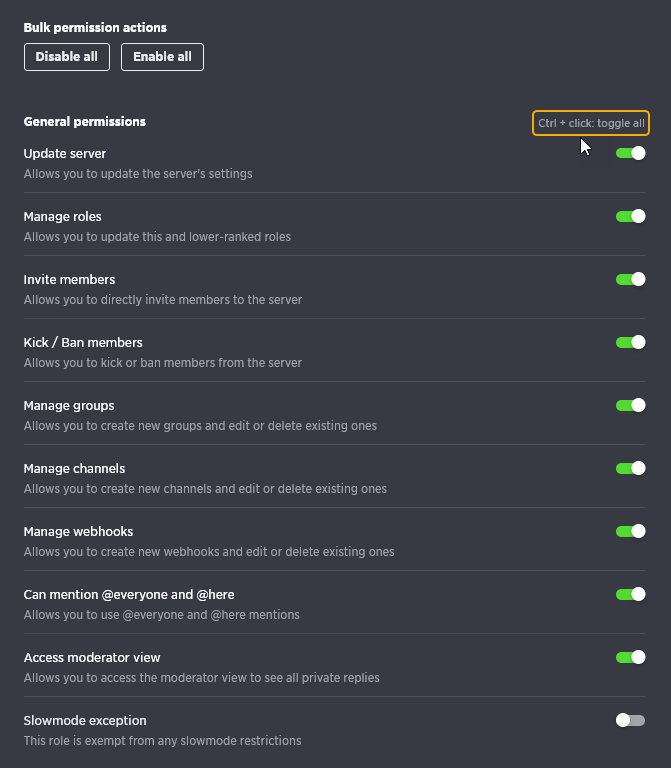 General permissions: these contain the admin and moderation permissions.
Recruitment permissions: Keep control over who has access to Applications sent to your team.
Announcement permissions: decide who can make and manage those all-important Announcements.
Chat permissions: change how members can interact with chat channels.
Calendar permissions: keep control of who can create, edit and delete events in Calendar channels
Forum permissions: decide how your members control forum content.
Docs permissions: decide who can create and manage docs.
Media permissions: decide who can add and manage media content.
Voice permissions: determine who can manage voice chat and voice rooms.
Competitive permissions: create tournaments and register to join them.
Customization permissions: allow emote management and nickname changes.
Form permissions: allow you to restrict the visibility of form or poll results.
List permissions: decide who can create and manage lists.
Bracket permissions [Tournaments]: allow viewing brackets and reporting match scores.
Scheduling permissions: decides who can view/create and delete schedules.
Bot Permissions: allow creating/editing bot flows.
XP permissions: allow manually editing XP values.
Stream Permissions: adjust how members can interact with streams.
Clone role: If you want to have separately named roles with the same permissions, you can clone a role and rename the copy to save time.

Delete role: No longer need a role? Click the Delete role button. You will be prompted to confirm the action.