Having a cool server name, vanity URL, and type is essential in Guilded for several reasons.
Firstly, a catchy and memorable server name can attract more members to join your community. It helps create a unique identity and sets the tone for what your server is all about. A creative and appealing name can make a strong impression and generate interest among potential members.
Secondly, a vanity URL adds a personal touch to your server. It allows you to customize the web address and make it more aligned with your server's name or theme. This makes sharing your server's URL easier on social media platforms, forums, or any other channels, making it more recognizable and accessible to others.
Lastly, choosing the appropriate server type helps categorize your server and attract like-minded individuals. Whether it's a gaming community, content creation, professional network, or any other niche, setting the server type accurately helps users find and join communities that align with their interests and preferences.
Overall, having a cool server name, vanity URL, and type enhances your server's appeal and uniqueness and helps attract the right audience and build a thriving community within Guilded.
Changing your Server Name
Head over to Settings > Overview.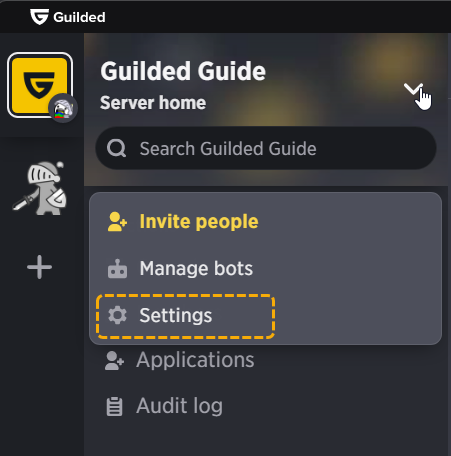 You will find your Server name in the Overview tab.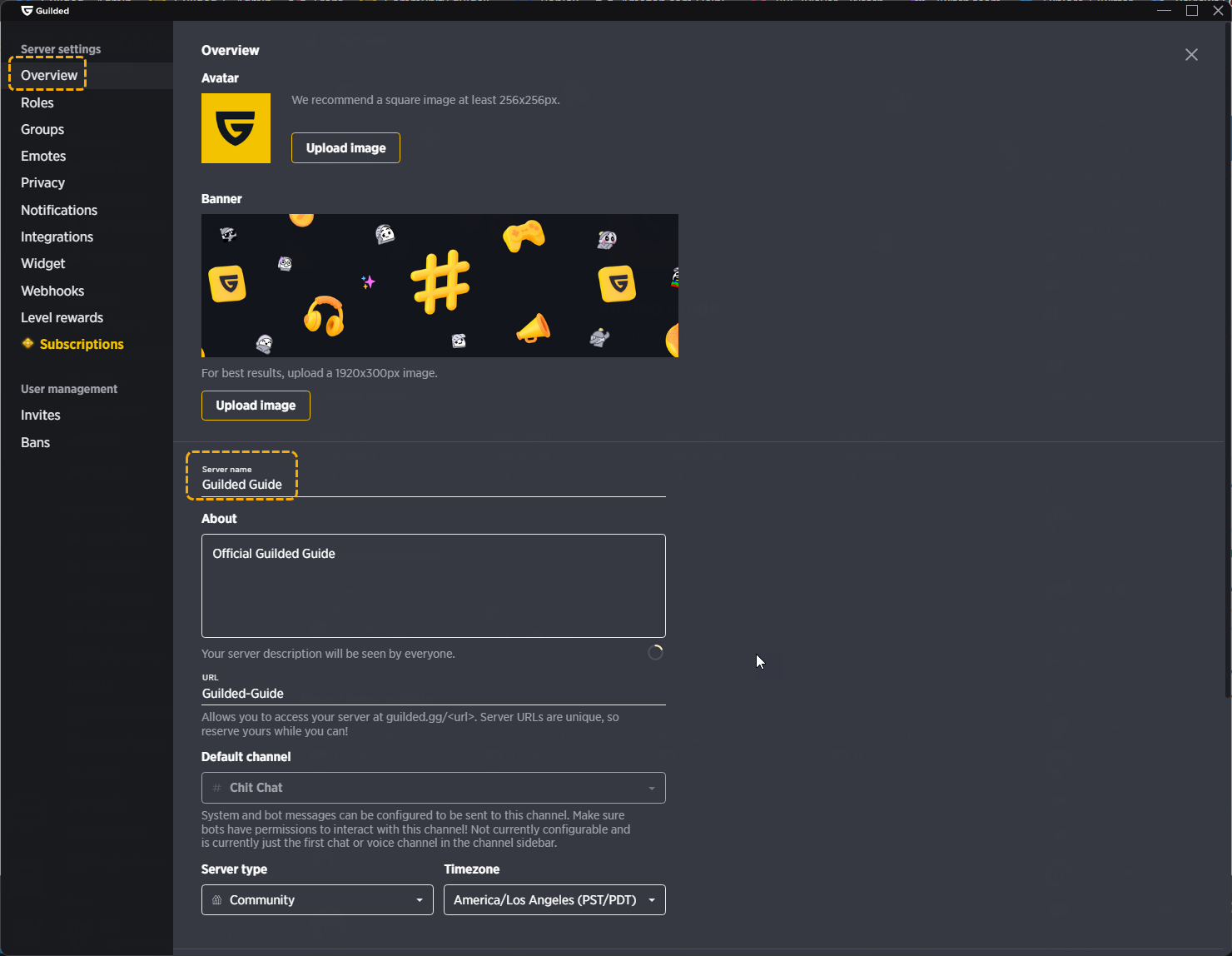 Update your team name and click Save changes.
Vanity URL
Keep your team name intact while changing your URL on Guilded! You have the flexibility to update your URL to align with your team's name without affecting the original name itself.
Simply check the availability of your desired URL by looking for the green checkmark.
Remember, team URLs are unique and can only consist of letters, numbers, and hyphens (-) and must have a minimum of 3 characters.
While Vanity URLs are exclusive, please note that inactive servers run the risk of having their Vanity URL released for others to claim. Stay active and maintain your online presence to secure your desired URL for the long term.
Default channel
Choose the default channel that you want to set for your server, this will be the channel that any bots or system messages will be sent to. You will need to make sure that any bots have permissions to interact with this channel.
Server Type and Timezone
Select the type of server you're running. While it won't affect your server's settings, it helps visitors and members understand your server's focus.
Pick your timezone from the dropdown menu or simply type in the box to quickly search for your timezone.
That's all there is to it. Remember to click that Save changes button when done!