Creating and managing Forms
Forms are a great tool to use within your server. They are a flexible way to ask your members those all-important questions and gather the information in one place. We'll show you how to create these for your channels.
If you wish to keep the Form results confidential to your server admins, toggle off the permission on any role you don't want viewing the results.
If you want the creation of Forms to be limited to specific roles, you can toggle off that permission in the Chat permissions.
Creating a form
Forms can be created in all channel types except scheduling and media channels.
First, let's look at where to find the option to create forms.
In chat channels and threads, click the + icon to access the menu and select Form.
Click the forms icon and choose Form in Doc, Forum, list, announcement, or Calendar channels.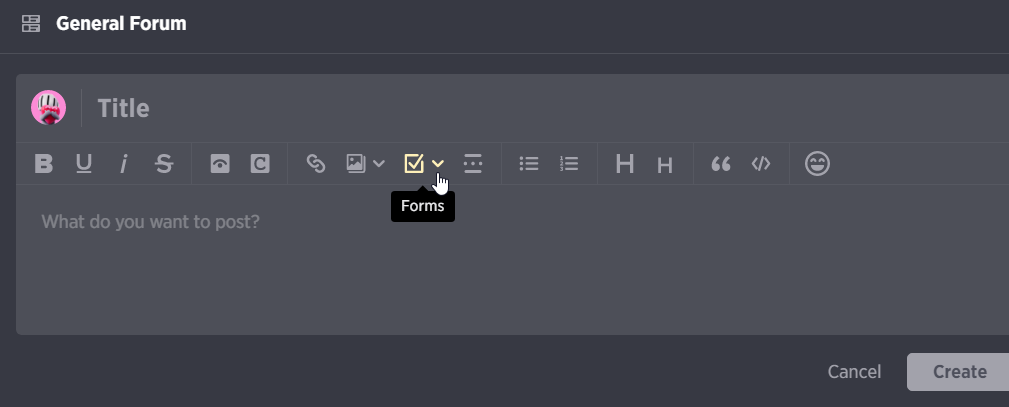 Creating a form is a streamlined process:
Title: Begin by adding a title to your form. This serves as the header and the first point of engagement for your members.
Description: Provide additional details about the form and what it entails (optional). This can guide your community on how to complete the form and the purpose behind it.
Open Submissions: Enable this feature to distribute the form across various channels or servers. Activating this will consolidate all the incoming data in a single location for easy analysis and review.
Allow multiple responses: If you want to allow participants to submit more than one response, please turn this on. It eliminates the need for multiple forms and simplifies the process for members to provide additional information.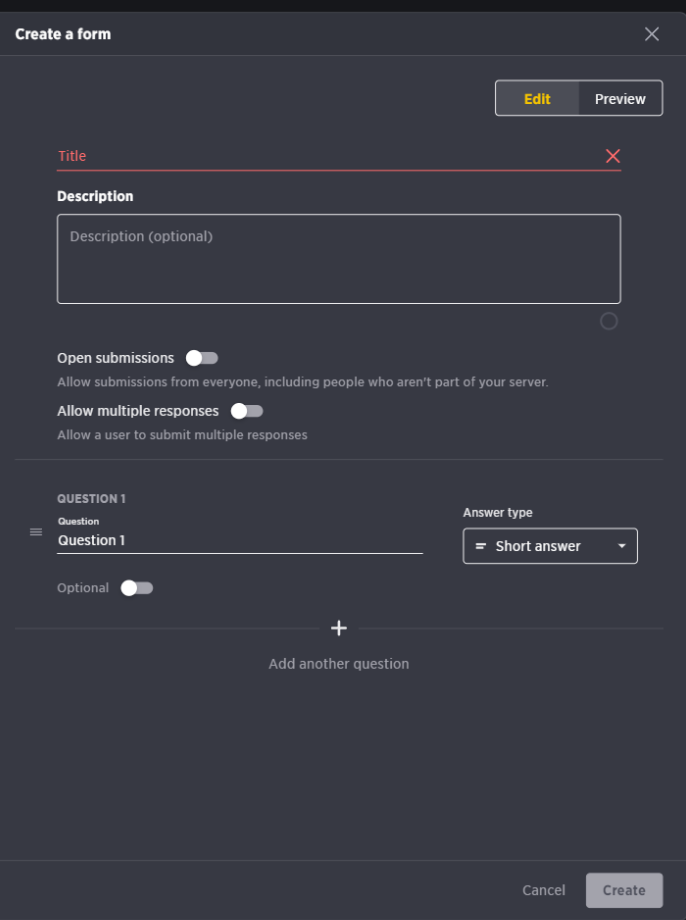 Forms are designed to be highly adaptable, catering to a diverse range of answer types to fit the specific needs of your inquiry. Below is an overview of the different answer types available:
Short Answer: For a quick reply, like a name or an answer that requires a few words.

Long Answer: When you need more details, like a full explanation or story.

Single Choice: Pick one option from a list.

Multiple Choice: Choose several options from a list.

Single Select: Select one from a dropdown menu.

Images: Upload a picture as the answer.
Give the Form a title and description, then fill in the form content. Choose the answer type from the dropdown box. Repeat this step for each question you ask.
If you want the question to be optional, you can just slide the toggle to the on position.

Click Preview at any time to view your new Form to see how it looks before saving.

Once you're finished building your Form, click Create.
Your Form will appear like this until you hit enter on chat or the publish button in Docs, Forums, Announcement & or Calendar channels.

Your Form is now ready for members to fill out!
Viewing the results
Click View Results to see the responses.

You can view a summary of the responses or toggle to see individual answers.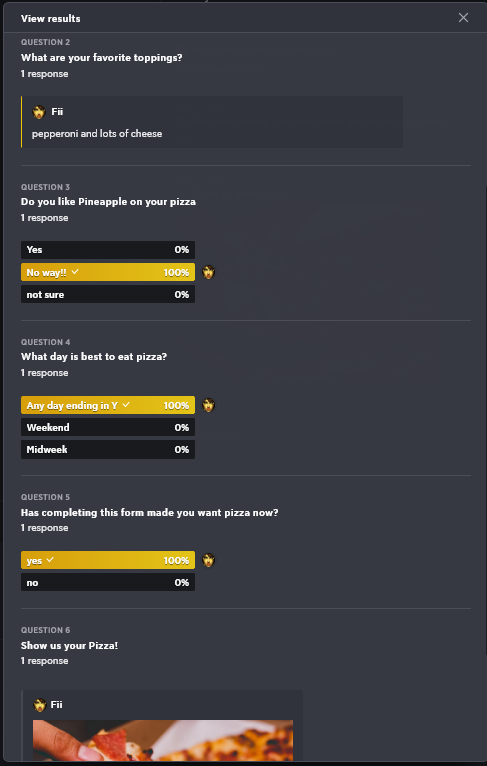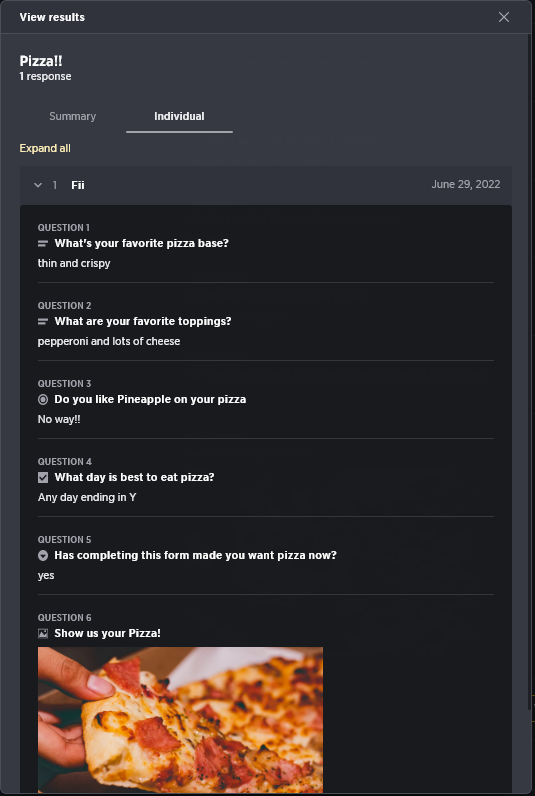 Exporting Form responses
To download all the data in a spreadsheet-friendly format, open your Form and click on the overflow menu. Then, select "export to .csv" to begin the download process.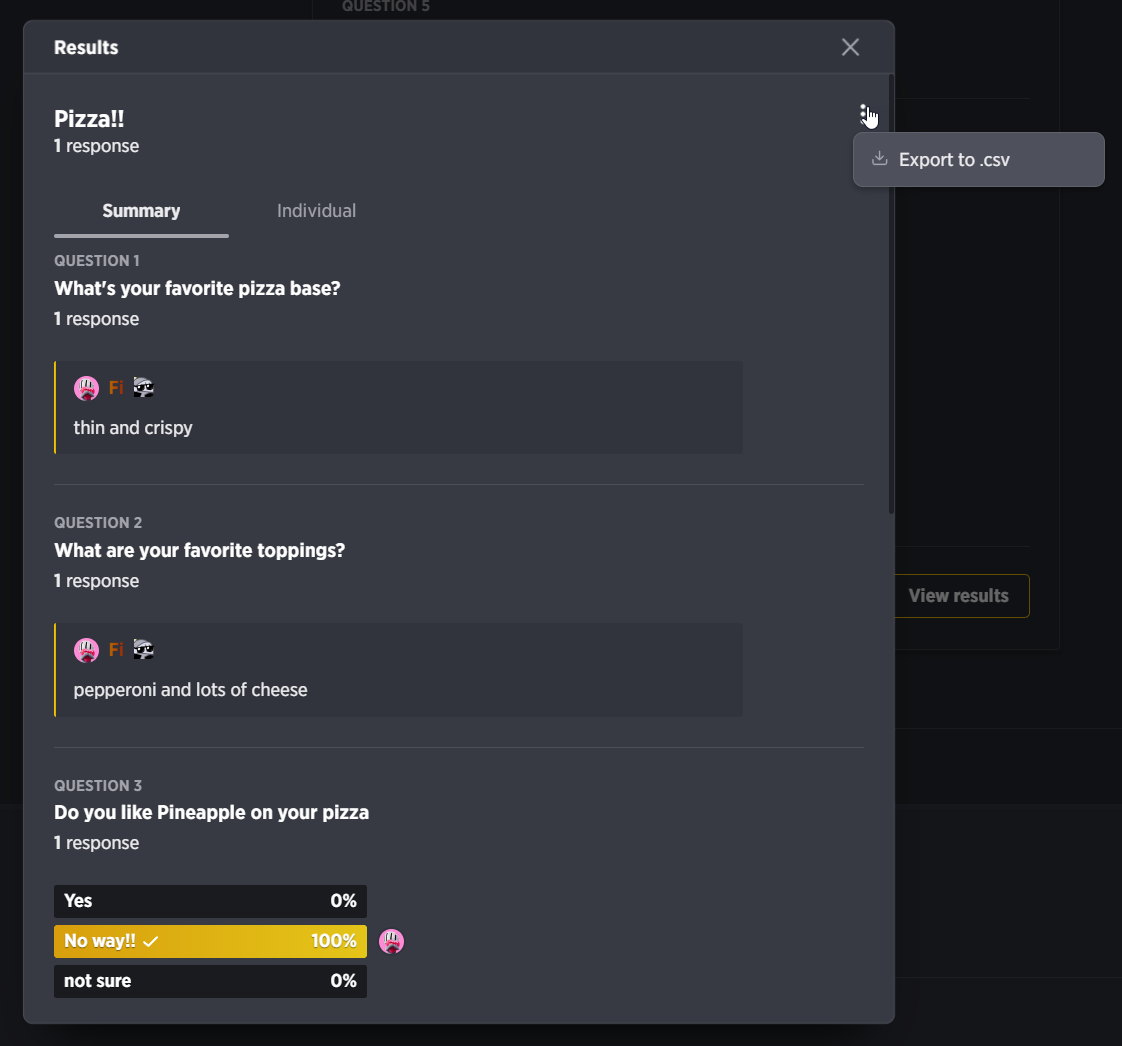 Form Notifications
When someone submits answers to a form, the creator will automatically receive a badge notification. But if you wish to share the completion of forms with others and make it more visible, we have added a bot flow that allows you to display form completion notifications in your chosen chat channel. Now, you can keep everyone in the loop with ease.